Collide with Me by Claudia Y. Burgoa: As an over achieving, super organised A type lawyer Amber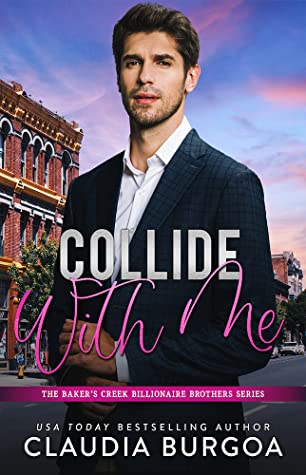 can't help but feel a bit lost and out of sorts with the loss of her mother, even more so when she is tasked with completing her mothers last wishes of spreading her ashes around the country in a bucket list sort of thing. All she really needs to do is secure her newly acquired emotional support chicken, map out the perfect cross country route and she will be all set… well everything except for the fact that Amber has no car or drivers licences… she just never expected New Yorks bad boy Hutch to volunteer to drive her and Hennifer Aniston.
For Hutch not everything looks as it seems, sure he is living his best rich playboy life but he can't help but feel the pressures from his family to settle down and join the family business. With all of this pressure getting to be too much Hutch feels the need to escape, so when the opportunity arises Hutch grabs it with both hands. Now all he needs to do is convince total rule following stickler Amber that she should take a chance on his happy go lucky ways… add a sassy chicken into the mix and things are sure about to get interesting.
"It's like putting a can of gasoline and matches in the same place. At some point there's going to be an explosion"
Opposites attract, check. Road trip, check. A wacky chicken, check. Collide With Me was pure perfection to read, I loved following Amber and Hutch as they road tripped across country checking off items on their list and building an unlikely relationship that proved to be just what both of them so desperately needed. I loved the easy pace of this book and that it was so easy to get invested in this couple as they found their way not only to each other but also finding themselves as well.
"He thinks I have a plan, but I'm just as lost as he is…
What if we're two lost souls being happy together?"
Amber was an interesting one, I will say that it was a bit hard to connect with her at first but as the book progressed I found myself warming up to her more and more. She had this hard, cold and super straight laced vibe about her that made connecting with her a bit hard but the hurt and loss that she had been feeling form the loss of her mother was clear as day and this really went a long way in humanising her character. I think even though this road trip was so out of her neat and tidy universe it was exactly the thing that she needed to see that she herself was not happy with the person that she had become. Also I must say I totally loved the idea of Hennifer Aniston being her emotional support chicken and really her last link to her mother.
Now let's really get into our hero Hutch, for all his bad boy, rich carefree exterior Hutch was a total sweetheart. I really liked his character and to be fair the more we got to know him the more I found myself loving his guy. I loved that he was so understanding, always patient and willing to hear someone out and that at the heart of it he was a kind man. I loved the fact that all he really wanted to do was help the people that mattered to him and make a difference in the world in which ever way that he could. As much as this road trip was something for Amber to get closure on the death of her mother it was also the thing that Hutch needed to help him find himself and really open up to new experiences. I just have to take a moment to mention the relationship between Hutch and Hennifer, all I'm going to say is that it was just pure gold!
I absolutely loved that these two completely different characters found themselves as the miles passed and that it also helped bring them closer together and learn that it was okay to lean on each other for support. I really enjoyed getting to see their chemistry develop and really getting to see them lower their walls and letting each other into their hearts.
Collide With Me is a total must read, this book will touch your heart, make you tear up, have you giggling and ultimately leave you swooning at the beautiful connection that is formed between these two lost souls.
Book Info:

Publication: September 13th 2022 | Claudia Y. Burgoa | The Baker's Creek Billionaire Brothers #7
I love routine. Schedules. Stability.
And I'm about to travel across the country with an actual chicken and the one man who I would schedule a root canal to avoid.
How did this happen? Let me back up.
My mom had one final request of me before she died: to spread her ashes around the country while I completed her bucket list.
It won't be easy, but I want to honor her wishes. However, I need some help (and I absolutely hate that).
I don't have a license – or a car – and I need someone to drive who won't mind my mom's chicken, Hennifer Aniston, on board. My options have been narrowed to one person: Hutch Aldridge-Sanders.
I have no interest in hanging out with the spontaneous, easy-going bad-boy of New York. But he's my only hope.
I'm dreading being in a car with Hutch's free spirit for a couple of weeks. Throw in the chicken, and this is bound to be a disaster.
Except that I forgot that opposites don't just attract—they make sparks fly.