Completely by Ruthie Knox: Rosemary is finally attempting to scale Everest after sidelining that goal for marriage and motherhood. She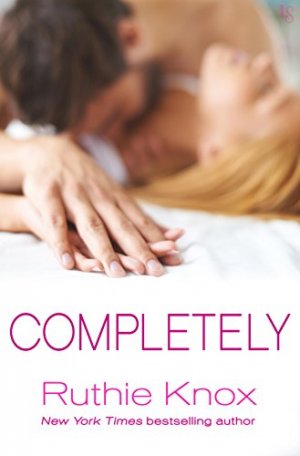 is a proper, sophisticated English lady who is finally trying to find herself after her divorce and raising Beatrice.
Kal grew up in Nepal around the Everest tourist trade and as the son of famous climbers. He's a passionate conservationist and wants to do more to help the Sherpa as they continue to risk their lives for climbers.
Rosemary is nearing the summit on Everest, the first of seven summits she's planning on climbing, and writing about it in a book. She's trained and is ready, until an avalanche forces her off the mountain before reaching the summit. Luckily for her, Kal is there to help her off the mountain and takes care of her in the aftermath.
"Nobody can resist my charms."
"To think they called you Doctor Doom."
"Right? And me so charming and everything."
"You have a highly inflated sense of your own charm."
Both are reeling from the loss of life, both overall and of those they've known. They turn to each other and have an amazing but reckless night. They end up traveling to New York together, which helps cement their growing bond. The avalanche forces them to reconsider their plans and they need to figure out their next steps, including whether an improbable relationship has a future.
"You were listening back at the hotel?"
"Of course I was listening. Why wouldn't I have been listening?"
"You seemed toasted."
"You're too important for me to ignore you when you finally decide to tell me something personal."
Completely is an entertaining opposites attract romance. Ruthie Knox created flawed yet engaging characters who don't know yet what they're looking for. Ms. Knox developed a quirky and amusing cast of secondary characters in their families. Fans of A.M. Madden and Katie MacAlister will enjoy Completely.

Book Info:

Publication: September 26th 2017 | Loveswept | New York #3
Everest. If they can make it there, they can make it anywhere. Maybe even New York, where Ruthie Knox takes her charming rom-com style to new heights.
Beneath her whole "classic English beauty" appearance is an indomitable spirit that has turned Rosemary Chamberlain into something of a celebrity mountain climber. But after an Everest excursion takes a deadly turn, Rosemary is rescued by her quick-thinking guide, New York native Kal Beckett. Rosemary's brush with death brings out a primal need to celebrate life—and inspires a night of steamy sex with the rather gorgeous man who saved her.
The son of a famous female climber with a scandalous past, Kal Beckett is still trying to find himself. In the Zen state of mind where Kal spends most of his time, anything can happen—like making love to a fascinating stranger and setting off across the world with her the next morning. But as their lives collide in the whirlwind of passion that is New York City, the real adventure is clearly just beginning. . . .