In Confess by Colleen Hoover, Loss and disappointment have been a recurring theme for Auburn Reed but she's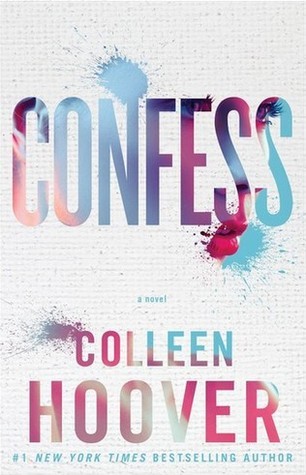 determined to fix past mistakes and move forward. The one thing she wasn't really looking for, though, was romance. Then she meets artist Owen Gentry and her entire world changes. With someone ready to accept Auburn as she is and willing to protect her no matter what the cost, she should be ecstatic. But Owen's secrets may put an end to her dreams before they can be fully realized.
"Is it the thought of spending the weekend with someone you barely know that's making you doubt this? Or is it just the thought of spending the weekend with me in particular?"

"I'm not scared because it's you, Owen. I'm considering it because it's you."
Owen Gentry is put in an awkward position when Auburn comes to the door of his art studio, Confess, looking for a part-time job. She doesn't realize that she is literally saving the day, all while helping him heal from past family tragedy. There is so much Owen longs to tell Auburn about his life and the repercussions of his past. And the more time they spend together, the more complicated things become. If he divulges his secrets, will it do more harm than good at this point?
'It's amazing how much distance one truth can create between two people.'
Confess was a story that messed with my head, pulled at my heart, made me believe in fate…and I enjoyed every single moment of it.
'Selflessness. It should be the basis of every relationship. If a person truly cares about you, they'll get more pleasure from the way they make you feel, rather than the way you make them feel.'
Colleen Hoover is a master at beautifully constructed, heartfelt romance that always has that something special to make it unique. Confess showcased her ability to draw the reader in, keeping us guessing how everything would work out and how the character's pasts fit together. The storyline was so delicately woven together that I'll admit to keeping copious amounts of notes while I read this one…just to keep everything straight!
The thing I loved most — aside from the plot itself — was how Auburn and Owen were able to destroy me emotionally. (Yes, I am a glutton for punishment with these New Adult novels) Their individual pasts were so heartbreaking in their own way. Then, to have them find love and happiness with each other only to have it so quickly threatened was devastating. But watching the faith and loyalty Owen and Auburn had together continue to grow in spite of outside forces was pretty darn magical, I thought.
The other intriguing part for me was the whole premise behind the art studio Confess. I won't spoil the whole story and give all the details away, but it was interesting how an event in Owen's life inspired him to create paintings out of stranger's confessions. The way it all tied together with Auburn was very cool and a tad bittersweet as well.
If you're looking for a story that will take you on an emotional journey of love, loss, frustration, and triumph, Confess is definitely for you.
Book Info:

Published March 10th 2015 by Atria Books
Auburn Reed has her entire life mapped out. Her goals are in sight and there's no room for mistakes. But when she walks into a Dallas art studio in search of a job, she doesn't expect to find a deep attraction to the enigmatic artist who works there, Owen Gentry.
For once, Auburn takes a risk and puts her heart in control, only to discover Owen is keeping major secrets from coming out. The magnitude of his past threatens to destroy everything important to Auburn, and the only way to get her life back on track is to cut Owen out of it.
The last thing Owen wants is to lose Auburn, but he can't seem to convince her that truth is sometimes as subjective as art. All he would have to do to save their relationship is confess. But in this case, the confession could be much more destructive than the actual sin…