Consequence of His Revenge by Dani Collins is a passionate enemies to lovers romance where revenge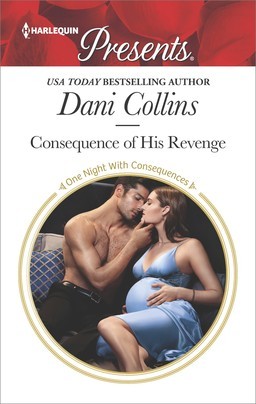 might seem sweet but ends up almost costing a couple their chance at happiness.
Dante Gallo can't forget how he was swindled out of his money by a business partner and friend, almost losing his whole family's inheritance in the bargain. He's painstakingly built up the family fortunes once again, but is still bitter and angry over being deceived. When it turns out that the daughter of his friend, Cami Fagan, is set to take a job with his new hotel acquisition at a ski resort in Whistler, he's quick to deny her the chance.
Meeting in person, Cami is rightfully wary of the man who is costing her a job and an apartment, a man who is taking his revenge out on her. Her father has since died in a tragic accident, and Cami has been faithfully repaying his debt to Dante every month while trying to keep her and her brother, now in medical school, afloat. When it appears that Dante knows nothing of these payments, he and Cami must investigate further. Cami helps out an elderly woman who unknown to her is Dante's grandmother. This makes Dante's nona want to know more about Cami, and insist on her spending time with them. Cami doesn't feel that she can refuse. As they get to know each other Dante comes to realize that much of what he assumed about Cami is untrue. Plus, he's attracted to her, and she to him (much to her dismay). A few passionate interludes lead to an unexpected pregnancy. But will Dante be willing to admit that he's made some mistakes and consider a real future with Cami, and in turn will she be willing to give him a second chance?
I really enjoy Dani Collin's romances, and this one has a particularly interesting plot for me, since it's clear from the beginning that there is more to what happened between Dante and Cami's father than what meets the eye. The fact that Cami has been trying to repay her father's debt unbeknownst to Dante is the catalyst for some deeper digging and new revelations. Cami was injured in the car accident that killed her parents, and had to give up a promising skiing career. She teaches some skiing to children but otherwise does whatever she can to earn money to pay the debt. There's a bit of a Cinderella vibe to this story, with Dante being the wealthy man who can afford to buy Cami whatever she might desire, and there's a sensual scene where Dante has her trying on expensive dresses to attend a gala ball with him. Their other love scenes are equally passionate and intense. I liked the setting and the characters in this story and how the conflict is resolved. It's an entertaining romance, with a sweet epilogue.

Book Info:

Publication: Mar 20, 2018 | Harlequin Presents | One Night with Consequences
In debt to the billionaire…
And bound forever by his vengeance!
Infamous Sicilian Dante Gallo takes great delight in firing Cami Fagan as punishment for her father's theft. What he doesn't expect is to desire her so intensely he can't resist seducing her, and Dante soon discovers how deliciously innocent Cami really is! But what started as revenge could bind them forever when their inconvenient passion has long-lasting consequences…