In The Room on Rue Amélie by Kristin Harmel, When Ruby Henderson was a young girl in America, she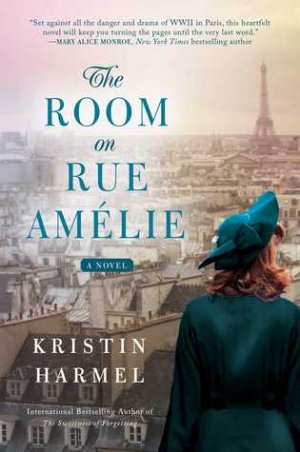 dreamed of having grand adventures in Paris, being courted by a handsome Frenchman and living an idyllic life with a view of the Eiffel Tower. Part of those dreams came true. Ruby met Marcel Benoit, fell in love, and they moved to his home in Paris. However, in 1939 when they arrived, Europe was on the brink of major changes. It's not long before Ruby can see the Nazi soldiers from her apartment windows on Rue Amélie and she knows it's only going to get worse for them all. Particularly for her Jewish neighbors, the Dachers. Little did she realize that the war would not only forever change her marriage, but it would change every facet of her life irreparably.
'Perhaps that was what it was like to love someone deeply: to feel that no matter how many moments together you were granted, there would never be enough.'
British pilot Thomas Clarke has been fighting alongside his friends and countrymen to win the war against the Nazis. And the fight gets even more personal when his own beloved mother is killed in the bombings. So after a renewed determination to win, the last thing Thomas thought would ever happen was to get shot down. But thankfully he knows to follow the plans set by his commanding officers and makes his way to the escape line in Paris. Meeting Ruby changes Thomas's life. It's true that she and her Jewish teenage neighbor Charlotte Dacher are putting their lives in danger by assisting pilots, but they believe the good they are doing far outweighs the consequences. Their bravery gives Thomas the courage to go on and fight. But only if he knows he will one day find his way back to them again when the war is over.
"One day, things will be different," he said after a very long pause. "We're going to win this war, Charlotte. In the meantime, just hold on. Don't lose sight of who you are."
Lush with detailed historical facts and multifaceted characters facing atrocities no one should ever have to bear, The Room on Rue Amélie was a World War II drama that will take readers on a powerful journey they will always remember.
'In every place evil dwelled, good could also be found. It was a truth that kept the world moving forward, through all the wars, through all the terrible machinations of mankind.'
As with most books set during this time period, there will be quite a few passages that might be difficult for sensitive readers. Prejudice, abuse, murder, torture…unfortunately these issues happened all over Europe, let alone in Paris and the concentration camps which we read about here. That having been said, there's something about stories set in the World War II era that draw me in. Especially when they have thoughtful, touching storylines as well as accurate historical backdrops, like The Room on Rue Amélie did. If you've read The Nightingale by Kristin Hannah (for fans of historical dramas, I highly recommend it!) then I think readers will undoubtedly compare it with this book as they do have some similarities. The bulk of both novels, of course, is set during WWII. I think The Nightingale explored the present time a tiny bit more than The Room on Rue Amélie did, but they both had some twists and turns in regard to the surviving characters that took me a little bit to figure out.
I did greatly enjoy how Kristin Harmel created a storyline that intersected at so many points. We basically had three main characters whose lives became wrapped around each other, showing the struggles they went through daily to stay alive and keep their loved ones safe. Ruby, an American living in Paris with her new husband, had an inner strength and caring ways that soothed those around her. Charlotte was a lovely young Jewish Parisian who had a huge heart and more determination than any two people combined. And Thomas, a British pilot with the Royal Air Force, had tons of courage as he faced down German aircraft–and also had a heart that was romantic and true. The three may have been an unlikely combination, but I thought it showcased the different areas people who were caught up in the war came from, and compared their differences and similarities.
The "escape line", European civilians assisting pilots and soldiers who were part of the Allied forces, became such a huge part of the three characters' lives. And it was pretty awe-inspiring to read about their sacrifices and bravery as they put their lives on the line to try to defeat the Nazis. I'll admit my emotions were all over the place, as I'm sure Harmel intended. Every triumph, every loss. The romance that blossomed between Ruby and Thomas and then between Charlotte and Lucien. It all enhanced the already turbulent times they were living in and it made their stories that much more real to me.
A thought-provoking, poignant story of sacrifice, love and friendship, The Room on Rue Amélie will be sure to wow readers with its depth of emotion and gripping plot.

Book Info:

Publication: Published March 27th 2018 | Gallery Books |
For fans of Kristin Hannah's The Nightingale and Martha Hall Kelly's Lilac Girls, this powerful novel of fate, resistance, and family—by the international bestselling author of The Sweetness of Forgetting and When We Meet Again—tells the tale of an American woman, a British RAF pilot, and a young Jewish teenager whose lives intersect in occupied Paris during the tumultuous days of World War II.
When newlywed Ruby Henderson Benoit arrives in Paris in 1939 with her French husband Marcel, she imagines strolling arm in arm along the grand boulevards, awash in the golden afternoon light. But war is looming on the horizon, and as France falls to the Nazis, her marriage begins to splinter, too.
Charlotte Dacher is eleven when the Germans roll into the French capital, their sinister swastika flags snapping in the breeze. After the Jewish restrictions take effect and Jews are ordered to wear the yellow star, Charlotte can't imagine things getting much worse. But then the mass deportations begin, and her life is ripped forever apart.
Thomas Clarke joins the British Royal Air Force to protect his country, but when his beloved mother dies in a German bombing during the waning days of the Blitz, he wonders if he's really making a difference. Then he finds himself in Paris, in the shadow of the Eiffel Tower, and he discovers a new reason to keep fighting—and an unexpected road home.
When fate brings them together, Ruby, Charlotte, and Thomas must summon the courage to defy the Nazis—and to open their own broken hearts—as they fight to survive. Rich with historical drama and emotional depth, this is an unforgettable story that will stay with you long after the final page is turned.