Conveniently Wed To The Prince by Nina Milne: One piece of property can heal or can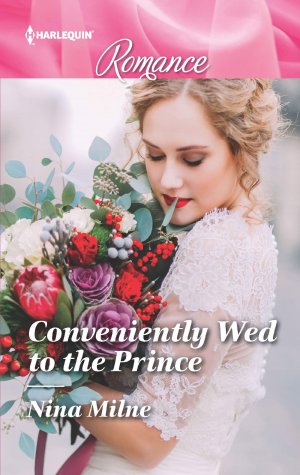 divide a family and country further. That piece just happens to be a lemon grove and one man and one will controls the destiny.
Holly Romano was still hurting. Stung by an unfaithful man a year ago and still hurting from a really awful marriage that she saw her parents struggle through when she was a kid. How on earth was she supposed to find a man and marry him in under a year? Was she really willing to give up her life and her dreams to help her father see his through?
Prince Stefan Petrelli had been banished from his homeland at 18, now to be called back for this? Was this the way he could go back with his head held high? He didn't want to go back, did he? Could he face marriage just to go back and own a bit of the land that should have been his in the first place? He had trained himself not to care, so why did this feel like caring?
Can Holly and Stefan really get married as a strictly business proposition? Or will business and pleasure mix and mingle somewhere along this journey?
Ms. Milne has brought us back to the island and back to the brothers. While this book can be read as a stand alone it will make more sense and give you a more profound experience if you read it as part of the series. It is well ridden and flows incredibly well within the covers. Most of us aren't royalty but with this series Ms. Milne has really given insight to the reality and it's not all high tea and tiaras. This is a lovely book, with characters who have real issues but learn that love can conquer your past and help you forge your future.
Book Info:

Publication: August 23rd 2018 | Harlequin Romance |
This royal wedding is strictly business…
When Prince Stefan learns he might inherit land from his estranged family, he sees a chance to honour his late mother. However, Holly Romano, is also named in the will – and the land goes to whomever marries first. But are they ready join forces and marry each other?