In Cowboys Need Not Apply (Small Town #1) by Robert Tate Miller, rodeo cowboy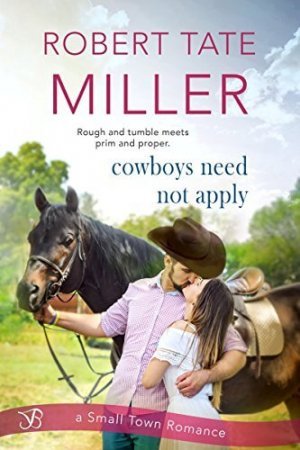 Matt Walker and ballerina Jessica Carmichael are nursing injuries and the only way to get back to the top in their respective careers is to have physical therapy at one of the top therapy centres. Too bad Jessica wants nothing to do with the cocky cowboy when they're assigned to be partners and tackle therapy together. However, Matt is determined to make things interesting for her and there seems to be no way she can ignore him, especially when he asks for her help in order to be able to compete again. Will Matt be able to convince Jessica to take a chance on him or are they too different to ever have a chance at happy ever after?
"Why are you doing this?" Matt said.
"Because I don't think you're ready for jumps."
"Just because it stings a little doesn't mean I'm not ready. I'm not the one afraid of a challenge."
Jessica zipped up her backpack and squared off at him. "And you're implying I am?"
"Well, if the pointe shoe fits…"
The moment I started reading this book I didn't know what to think of the hero, as he's a bit egotistical and believes he can do everything, even though the doctors are saying otherwise. However, he did win me over, especially from the moment the hero and heroine come face-to-face for the first time; a moment where this story really takes off and had me completely hooked, as it's palpable these two are complete opposites and Matt is determined to push and challenge Jessica because he wants her to make a comeback while she's determined to knock him down a peg or two when it comes to his ego. No way is he going to let her injury hold her back. Will Matt or Jessica win the battle? Will they both get back to their careers without any trouble coming their way?
"Hey now," Matt said with a lopsided grin. "I'm a lot more graceful than I look."
Jessica shook her head. "Well, it's not going to matter anyway, because I'm going to win – so okay. Whatever. I'll teach you to pirouette. And when I win, you have to show up for PT on the last day…in tights. Pink tights with frilly lace around the waist."
Matt grinned that cocky grin of his. "You got tights that'll fit this ol' cowboy?"
"Don't worry," Jessica said. "I got tights that will stretch to fit any ol' cowboy. And no cheating."
As for the dialogue, it was highly entertaining and a wonderful combination of intense moments due to the main characters back stories and everything these two go through on their journey to happy ever after and playful banter that had me loving the hero's determination to help Jessica because he wants her to succeed and perform again. Really, he's funny in pushing her buttons with the nickname he gives her and the attitude he has towards her profession that he knows will get her riled up. I also liked the hero's confidence, his charm and his determination to win the heroine over because he needs her help if he's going to get back to the top of his game as a rodeo cowboy.
While the heroine, she goes through so much in this story and faces some tough obstacles to be with Matt including family interference and whether either of them are willing to give up their dreams to be with the other since Jessica is a city girl while Matt's all about the country. Will Matt stay in New York to be with Jessica? Will Jessica join Matt at his ranch and give country life a chance? Moreover, the heroine is a resilient and courageous woman and I liked how Matt pushes her to realize that she can't give up, even though – at times – there seems no hope of her ever fully recovering from her injury.
Overall, Mr. Miller has delivered a charming and compelling read in this book where the chemistry between this couple was powerful; the romance was on the sweet side; and the ending left me completely satisfied because of what the hero does to show the heroine that she's the one for him. However, it was the epilogue that wrapped this story up perfectly because of the decisions the hero and heroine have made when it comes to their future together. Why not live the best of both worlds, especially with how things are only going to get better for the pair? I would recommend Cowboys Need Not Apply by Robert Tate Miller, if you enjoy sweet contemporary romances, the opposites attract trope, the enemy to lovers trope or books by authors LE Rico, Elsie Davis, Jennifer Hoopes and Joann Sky.

Book Info:

Publication: August 13th, 2018 | Entangled Bliss | Small Town Romance #1
No, prima donna ballerina Jessica Carmichael isn't interested in the rough-and-tumble rodeo cowboy she met in physical therapy. In fact, she's actively uninterested in his cocky smile, and his go-with-the-flow attitude, and how his silly little bets make her work harder than ever to fix her knee. She'd like nothing more than to strangle him, if she wasn't so busy thinking about kissing him.
Matt Walker's best hope of getting back in the saddle is charming Jessica into teaching him ballet. He needs to get back on the bronc…even if he has to get there in tights. Only the uptight ballerina lives in a completely different world, one he wouldn't touch with a ten-foot mechanical bull. But maybe the one thing she needs more than control is to lose control for once—with him.