In Cowboy, It's Cold Outside (Twilight, Texas #8) by Lori Wilde, Paige MacGregor has of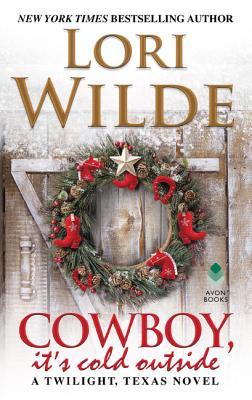 course heard of "meet cute" moments thanks to romantic comedies, but she never thought she'd be smack dab in the middle of one herself. But a comical case of mistaken identity has her feeling all swoony for country star Cash Colton. You would think after being burned badly in the past that Paige would steer clear of charming, sexy guys. Although Cash somehow gets under her skin like no one else. And she realizes that she deserves to live a little, to have a bit of fun while he's visiting in Twilight. What could be the harm in that, right? Now if Paige can just tell her heart to stay out of it, she'll be doing fine. Some things are easier said than done, though.
'He had trouble with relationships. He'd admitted as much. His career was his mistress, his soul mate, his true love.
How could she compete with that?'
The past year has been one spent as much out of the public eye as Cash could manage, dealing with his personal life *and* his professional life imploding. What was supposed to be a fun mini holiday vacation in Twilight, Texas soon turns into Cash getting his musical mojo back. And the catalyst for his creativity? The lovely Paige MacGregor. Sure she might be more girl-next-door than mystical muse but his lively conversations with her–not to mention the sparks between them–feed his musical soul. Cash knows he's not a good bet as far as long term relationships go, but he has a feeling that Paige could be the one woman to change all that and help him find where he's really meant to be in life. If he can let himself take the chance.
"It was supposed to have been a romantic gesture. I was trying to romance you."
…"How in heaven's name was that romantic?"
"As things turned out, it wasn't. But most women I know would be over the moon to get pulled up onstage–"
"Does it hurt?" she asked.
"Does what hurt?"
"Carrying around such a gigantic ego?"
Christmas just wouldn't be complete without a trip back to Twilight, Texas and a chance to see who'll fall prey to the magic of the Matchmaker Cookies. As always, Lori Wilde delivered a sweet and touching yet flirty romance full of down home charm and lovely sentiments.
'What if he gave up sacrificing love for the sake of his career? What if there was something more important than music?'
I somehow forget exactly how much I enjoy Lori Wilde's romances and how often they make me smile until I pick a new one up and get totally swept away again. Cash and Paige's story was definitely a fun one, kind of an opposites attract theme with him being an attention-loving country musician and her a rather private person. I loved watching how Paige grounded Cash, giving him stability in a life that's been filled with sadness and wanderlust. And he was able to help her believe in herself after a knock to her self-esteem, while also embracing her love of dance again. I do love it when a couple can lift each other up like they did.
Where Cash's life had been built around music, I thought the way Lori Wilde started off each chapter with a musical word and its definition–which then corresponded to the events in the upcoming chapter–was really cool. But then again I'm a huge music fan. Likewise, I have a feeling some will find the dialogue between Paige and Cash filled with overly wordy prose at times, aside from their comical bantering, which was super fun. I chalked it up to him being a songwriter and musician but I understand if some readers think it's too much.
My heart truly went out to Cash and Paige over what they had been through in their personal lives over the years. They were doing their best to heal but they still both had a ways to go. The inclusion of local townsfolk, Paige's family in Twilight, and people from Cash's world in music added more depth to the story and I thought helped show who Paige and Cash were deep inside. I think they both were genuinely caring people with good hearts. Sure they made mistakes, but by the end, Wilde showed just how far they had come and how much they'd learned about themselves and how to care for others.
What could be better during the holiday season but a story about two deserving people who find love, acceptance, and a shining new future together? Fans of Wilde's Twilight, Texas series will be certain to have a great time with Cowboy, It's Cold Outside.
Book Info:

Publication: Published October 31st 2017 | Avon | Twilight, Texas #8
Everyone in town knows that Christmas in Twilight has a way of bringing lovers together . . . but will its magic bring this pair from "I won't" to "I do"?
Wearing a too-tight "Santa Baby" costume held in by a double pair of Spanx, Paige MacGregor runs headlong into a gorgeous, grey-eyed hunk of a long, tall cowboy. And not just any cowboy, but country-western star Cash Colton, visiting Twilight to perform in a charity concert. Most women would melt at his feet, but Paige knows all too much about self-assured men with cocky attitudes, so she tells him to get lost.
Cash is in town, nursing his own broken heart, but Paige has knocked him off his feet. He's convinced she's perfect—someone to inspire his music and share his now-empty bed. True, he's not marriage material, but he's determined to convince her that they're perfect together—at least for a while. But what he doesn't count on is falling in love with the one woman who isn't about to give him the time of day!