In The Surgeon King Secret Baby by Amy Ruttan, having believed she'd lost the man she shared an incredible night with on the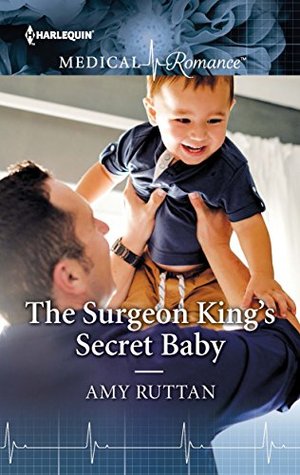 front line in the war-torn country of Hermosa, Reagan Cote is determined to give their baby a wonderful life. However, when she discovers Kainan is alive and has lost his voice due to the injuries he suffered while trying his best to save lives, Reagan knows she has to tell him her secret. But with Kainan having a secret of his own, will Kainan be able to convince Reagan that she means everything to him, or will they go their separate ways because Kainan's secret is too much for her to handle?
"Reagan, we need to stop."
"Why?"
"I'm advancing and you're leaving. What future do we have?"
"Right now, none. But I'm not asking for a future, Kainan. I just want a connection with you. I've been fighting it since I met you."
What a wonderfully-crafted, deeply-emotional read Ms. Ruttan has delivered in this story encompassing the surprise pregnancy trope; main characters working as doctors in a war-torn country that end up going their separate ways but then are reunited; and riveting dialogue that had me crying happy tears because of how these characters overcome the obstacles that threaten to keep them apart including the medical complications the hero and their baby face. The way this story started with the prologue had me completely hooked and determined to discover whether the heroine would give into her feelings for the hero. However, it was what happens at the end of the prologue where this story gets very interesting. Will the danger of war tear these two apart?
As for the dialogue, it was well-written was intense due to the main characters back stories and the medical emergencies these two have to deal with. Yet, I loved every interaction between this couple, as the heroine helps the hero to communicate with others in his capacity of a doctor and the hero helps the heroine through the tough time they face with their baby. Will everything work out for the best? Moreover, the heroine is resilient, courageous and I liked how she handled everything thrown at her including learning the hero's secret and what happens to the hero and their baby that left me worried for the pair. Yet, what I liked most of all about the heroine is that she gave Kainan a chance, which wasn't easy because she's never known love before since her parents are a real piece of work that don't deserve such a kind, caring and successful daughter. While the hero, he's been through a lot with what happened to him growing up and being the spare to the heir of his country. He also had a tough time working as a doctor during the war and what happened to him was terrible, especially because it changed everything for him and he needs to find a way to overcome the tragedy he suffered to be able to take his rightful place. Will Kainan come out on top by working with the heroine and then what happens to him at the critical moment in the book?
"I'm sorry," she whispered against his neck. "I'm so sorry."
When she looked up he signed, What for?
"For pushing you away. I never gave you a chance to explain everything. You were carrying around this tremendous burden and I should've been more sympathetic. I know what it's like to carry around a burden as big as that, and I'm sorry I didn't give you the chance. I was afraid."
Overall, Ms. Ruttan has delivered an absolutely captivating read in this book where the chemistry between this couple was instantaneous and convincing; the romance completely hot and showed how right these two are for each other and how deserving they are of happy ever after; and the ending had me worried for one of the main characters, but I loved how things worked out for this couple, as the hero and heroine are meant to be. Yet, it was the epilogue that wrapped this story up superbly, as Kainan has come so far and I loved how the heroine has stood by him every step of the way with how his life has changed so much with his new role. I would recommend The Surgeon King's Secret Baby by Amy Ruttan, if you enjoy the second chance romance trope or books by authors Annie O'Neil, Amalie Berlin, Tina Beckett and Louisa Heaton.

Book Info:

Publication: January 1st, 2018 | Harlequin Medical |
A family by New Year's Eve?
Reagan Cote left war-torn Hermosa thinking the gorgeous surgeon she'd shared a brief affair with was lost on the front line. So she clung to the child she was carrying.
While Kainan Laskaris's voice is damaged, he's alive. And when he finds Reagan in Toronto and discovers he's dad to their sick baby boy, he asks her to marry him. Now he's king of Hermosa, he needs a queen and heir, but before she'll accept, Kainan must prove that marrying Reagan means more than claiming his kingdom