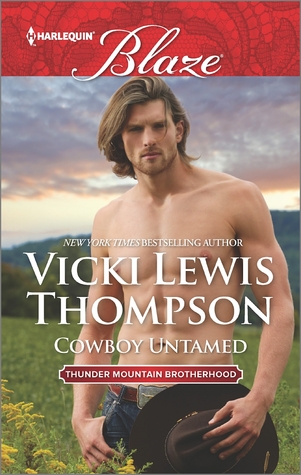 Cowboy Untamed by Vicki Lewis Thompson: Cowboy Untamed is part of the Thunder Mountain Brotherhood series and is a sexy romance featuring potter Sapphire and metal artist Grady. Sapphire has sworn off artists as far as relationships are concerned – every time she thinks she's found a good match it turns out to be a dud. But when she first sees Grady, she can't help but be attracted to him – and the feeling is mutual. When Grady is invited to be the guest artist at a local festival, it's not long before she's breaking her own rules and letting him into her bed. But will she let him into her heart? Only time will tell if Grady can convince Sapphire that they can put their talents together to make a bright and beautiful future.
This was my first time reading a book by Vicki Lewis Thompson and definitely won't be my last. I loved the small cowboy town and the people who make up this community. The Thunder Mountain Ranch is the focal point, a place where foster children have come and grown into handsome, hard-working and self sufficient men. Grady's circumstances were a little different – he was raised at the ranch for only a short time while his mother needed help, but he cares deeply for the people there and made some solid friendships with the other young men. Being back in the place he considers home is a wonderful experience for him, as is the chance to get to know Sapphire. He's only going to be around for a week, and makes it clear to Sapphire that he'd like to spend time with her while he's there. For Sapphire, hesitant to get involved with Grady because he's exactly the kind of man she's been trying to stay away from, the idea of a hot and heavy short term affair is very appealing. They share some very sexy scenes together (indeed, there are an abundance of them in this story!). But Grady realizes quickly that he's falling for Sapphire, and hopes that at the end of their week together she'll consider something more. Sapphire is torn between her heart and her mind, and the conflict in the story comes from her trying to decide which path to take. It's a wonderful sexy romance, with some very appealing and likable characters, and I'm definitely going to delve into more of the Thunder Mountain Brotherhood series.

Book Info:

 July 19, 2016 | Harlequin | Thunder Mountain Brotherhood
Potter Sapphire Ferguson had one rule: no more artists. There have been too many disappointments and too many heartbreaks. That is, until she sees wildlife metal artist Grady Magee welding a sculpture of wolves, and Sapphire's self-control is completely incinerated. Whoa, Nellie. A cowboy with an artist's soul…and a hard, sexy body. How can she resist?
Sapphire tells herself it's just sex—incredibly and unbelievably intense sex—between two consenting adults. No love and no getting hurt. Except that Grady isn't just an artist. He was raised at Thunder Mountain Ranch, and he's all cowboy. He's playing for keeps…and he'll have to prove to Sapphire that he can have an artist's soul and a cowboy's heart.