Crash Into Me (Shaken Dirty #1) by Tracy Wolff is the first book in her new Shaken Dirty Series and it is a sizzling page-turner. This is the story about the finally successful rock band Shaken Dirty, its members, a sister, and falling in love.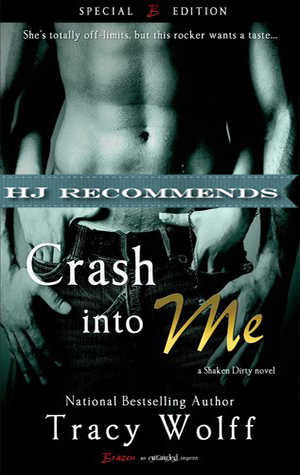 Jamison Matthews was only thirteen when she fell in love with her brother's best friend, Ryder Montgomery. Now ten years later, she naively still lusts after him and desperately wants him to feel the same way. Ryder is the lead singer in her brother's band and he views Jamison as a little sister and the consummate good girl.
Jamison has had a horrible week; her car was totaled, she found out her boyfriend was a cheating bastard and the pastry chef job that she uprooted her life for was eliminated due to the poor economy. The only good thing happening is that her brother Jared is in town because he and his band are on tour. The band members are Jamison's closest friends and spending time with them will definitely cheer her up. Seeing Ryder perform, is just the icing on the cake.
Ryder is the typical bad-boy rocker. Piercings, ink and a brooding disposition create his aura, which is the extremely talented Ryder. As a result of his somber and wretched past, his persona is ingrained with blame and guilt.
Ryder finally begins to see Jamison in a hot, romantic way and they agree to a secret, emotionless, unattached fling. Always looking over their shoulder to ensure Jared does not get upset about their togetherness is a downer, but they work through it. Jamison and Ryder are really good together, they understand each other and Ryder begins to let go of some of his darkness. They heat up the sheets in a way that leaves the reader panting and gasping for breath.
As Jamison and Ryder get emotionally closer, Jared and the other band members are experiencing their own metamorphoses. Luckily, their long-term friendships enable them to overcome most of the issues plaguing the band.
I love a good rock band story and Crash Into Me is a winner! Don't pass up this well-written, fast-paced, emotional and sexy read.
Book Info:

 HJ Recommends
Published October 14th 2013 by Entangled: Brazen | Series: Shaken Dirty #1
Jamison Matthews has lusted after Ryder Montgomery since she was a preteen. But now that Ryder and her brother's band, Shaken Dirty, has made it huge, she's just one of many pining for the brooding lead singer. Too bad Ryder still sees her as a little sister. Not that it matters. Her brother would never allow it, and the last thing Jamison wants is to be another notch on a rock star's bed post. Even if it's Ryder's.
Ryder doesn't deserve happiness. After his fame destroyed his last girlfriend, he swore he'd never fall in love again. So when Jamison, the girl he's been in danger of loving for years, joins the band on the road, he'll do anything to deny the sparks between them–even after one hot night together. But Jamison is determined to show Ryder that he's worthy of love–her love–and that she's all grown up and ready to play.