Molly McAdams debut book "Taking Chances" is your typical love triangle story, and yet it is so much more. I don't know how Ms. McAdams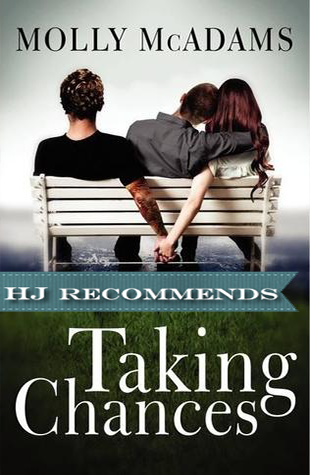 managed to make me love these characters so much!
Harper is just starting college and finds that she is in love with two guys. Brandon her boyfriend, and Chase her roommates brother. And oh my god can you say hot manly Harper sandwich!
This book takes so many unexpected turns that it leaves the reader completely disoriented by the end. It comes to point where you are sure one thing is going to happen, but Ms. McAdams flings you and her characters into a co platelet different direction!
I LOVED IT!!! I definitely cannot wait to read book two, "Stealing Harper". I can't even begin to imagine what will happen next.
If you enjoy books that contain characters that will completely twist your heart into a jumbled mess that Taking Chanes is a book for you! Now this is what I want from the New Adult genre!
Book Info:

Published April 16th 2013 by William Morrow
Her first year away is turning out to be nearly perfect, but one weekend of giving in to heated passion will change everything.
Eighteen-year-old Harper has grown up under the thumb of her career marine father. Ready to live life her own way and to experience things she's only ever heard of from the jarheads in her father's unit, she's on her way to college at San Diego State University.
Thanks to her new roommate, Harper is introduced to a world of parties, gorgeous guys, family, and emotions. She finds herself being torn in two as she quickly falls in love with both her new boyfriend, Brandon, and her roommate's brother, Chase. Despite their dangerous looks and histories, both men adore Harper and would do anything for her, including taking a step back if it would mean she'd be happy.