Crave Me by Stacey Lynn, hits all the right buttons when it comes to an enjoyable BDSM novel. The story was not too strict, but with plenty of affection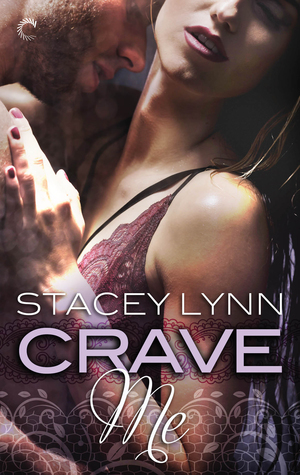 between the characters, and plenty of heat throughout the pages.
Chloe wants Simon. She has always wanted Simon, but he fell in love with her sister, Cassie, and that was the end of that. It's been five years since the two broke up and Chloe has decided to make her move, with a kiss that neither of them can forget. Too bad, Simon shoots her down.
Simon is a dominant who used to date Chloe's sister, but once he tried to incorporate the lifestyle into their relationship, things went downhill. Chloe, on the other hand, knows that Simon is into BDSM and still wants him. When he turns Chloe down, he tries to forget everything about her, but it's proving to be difficult. It's not until he hears Chloe screaming his name, at the club he frequents, that he's willing to give in.
Simon agrees to train Chloe for one month. After one month, Simon will find Chloe another Dominant and they will go their separate ways. Chloe agrees to this, thinking she can separate her emotions from any act they perform, but that's now it works, especially in a BDSM relationship. Emotions are going to arise and honesty will be required. And the emotions are definitely not one sided!
I loved both characters. Chloe is smart, determined, and knows who she wants; who she's always wanted. She's not the perfect submissive, but she's perfect for Simon. She craves the lifestyle a different way and Simon knows this and uses it to cater to both their needs. Once Simon gives in and stops refusing her, their passion for each other ignites.
For those readers who enjoy an enjoyable BDSM novel, Crave Me, is the perfect blend of sweet and spicy. For those who aren't familiar with this type of lifestyle, I think Crave Me, would serve as a great introduction in the world.

Book Info:

Publication: May 29th 2017 | Carina Press | Luminous #2
Chloe
I know I shouldn't covet my sister's ex-boyfriend.
She may have wanted nothing to do with his BDSM lifestyle, but I'm a born submissive. And the only place I want to be is under Simon's command.
But he won't go near me. Not with the memory of her so close.
That leaves me no choice. If he won't touch me when he knows who I am, I'll have to come to him in disguise.
He's worth the risk. I'm meant to be his. Now I just have to prove it to him.
Simon
Being a Dominant cost me my first love, but I can't deny who I am. I won't. Control and power are everything, and the way I keep mine is by playing only with experienced subs. No exceptions.
Until I met her.
She wore a mask, but I knew the moment our lips touched she was meant to belong to me. Young, new to the world of BDSM—I knew training her would be a risk.
I didn't know it would destroy me.