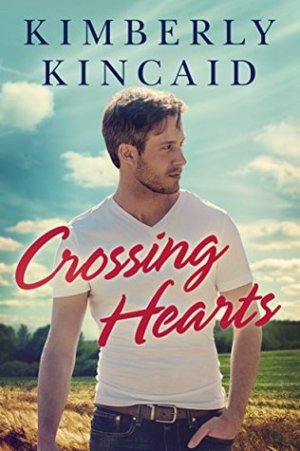 Crossing Hearts (Cross Creek #1) by Kimberly Kincaid: WOW! That is what comes to mind when I think of this amazing story. It is a beautiful second chance love story. But more than that, the writing, the characters…..amazing! I have loved Kimberly Kincaid since I was first introduced to her Pine Mountain series, and I can tell you that if the first book in the Cross Creek series is any indication, she has another hit on her hands. This is the story of Hunter and Emerson.
Hunter Cross wants nothing more than to work the family farm, see it prosper and live his dream. But when an old shoulder injury comes back to haunt him, so does a ghost from his past, in the form of the one girl that he loved as a boy, the one that broke his heart, and the one that he can't seem to forget, Emerson Montgomery.
Emerson is back in town, a physical therapist with a secret. If it gets out, her parents will look at her as a failure, so she tries to hide it from everyone, especially Hunter Cross, who can still read her like a book. When Emerson is called in to work with Hunter to get his shoulder back in shape, the sparks start flying.
As Emerson and Hunter spend more time together, and they start to open up to each other, Emerson will need to make a decision on how much trust she can put in Hunter. Because she doesn't want his pity, she wants the man, but secrets can keep these two apart if they don't learn to trust.
I loved the dynamic between Emerson and Hunter. I love that Hunter stayed with Emerson, was fighting for them, would not give up. It is a refreshing thing when you have a hero who is willing to step up and fight for love. Amazing, touching, sexy and spectacular, that is what this book is.

Book Info:

 Expected publication: February 7th 2017 | Montlake Romance | Cross Creek #1
Hunter Cross has no regrets. Having left his football prospects behind the day he graduated high school, he's happy to carry out his legacy on his family's farm in the foothills of the Shenandoah. But when a shoulder injury puts him face-to-face with the high school sweetheart who abandoned town—and him—twelve years ago, Hunter's simple life gets a lot more complicated.
Emerson Montgomery has secrets. Refusing to divulge why she left her job as a hotshot physical therapist for a pro football team, she struggles to readjust to life in the hometown she left behind. The more time she spends with Hunter, the more Emerson finds herself wanting to trust him with the diagnosis of MS that has turned her world upside down.
But revealing secrets comes with a price. Can Hunter and Emerson rekindle their past love? Or will the realities of the present—and the trust that goes with them—burn that bridge for good?