In Daisies in the Canyon by Carolyn Brown, Abby Malloy left the Army after more than a decade in the trenches. Now she's on to the next chapter: going to her father Ezra Malloy's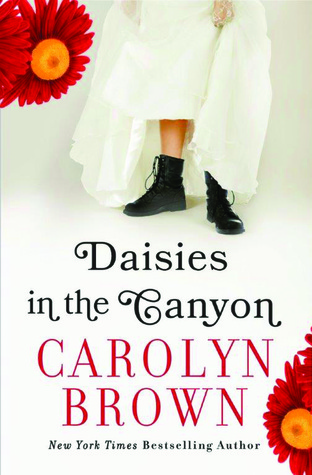 funeral, a man she's never met, and proving she has what it takes to run his ranch. Abby meets her two previously unknown half-sisters, Shiloh and Bonnie, who were also in the dark about having siblings. The three of them were issued a challenge by Ezra to stay on the ranch for a year, working every day just like any other rancher and they will be awarded their part in ownership of the property. But if they bail, they lose the opportunity. Abby likes her odds when she meets her sisters but they all show just what they're made of over time. The one thing messing with her head? Sheriff Cooper Wilson. A man who looks like sin and has eyes only for her. Abby hopes he won't prove to be too much of a distraction in her fight to win the ranch.
'If someone had told her a month ago that she'd be working on a ranch with her sisters and enjoying it, she would have thought they were batshit crazy. But there she was, in the middle of a canyon, in the winter, doing chores with her siblings and hoping to hell neither of them left.'
Cooper Wilson, County Sheriff and owner of the Lucky 7 Ranch, is surprised when he gets a look at Abby Malloy. Her estranged father was his neighbor and although Ezra was curmudgeonly, Cooper can't imagine how he could give up the chance of getting to know his daughters. Abby is a strong-willed woman on the outside, but he just bets she's scared and uncertain on the inside. He wants to give her room to figure things out on her own, but no matter what Cooper does, he ends up at the Malloy Ranch damn near every day, just to have the chance to speak with Abby. If it were just physical attraction, he could handle that. But what Cooper feels for her might just be the real thing. And that scares him more than anything else he can imagine.
"Abby, darlin', if you are going to say stop, do it now, please."
"Cooper, darlin', I'm not going to say stop," she whispered softly in his ear.
"Dear Lord," he rasped hoarsely.
"It's damn sure not a time to pray," she said as she undid his belt buckle and unzipped his jeans.
Daisies in the Canyon was a fairly quick but completely enjoyable western-style romance that had me laughing and happily sighing in equal parts. The utter chaos that Abby walked into when she stepped foot onto the Malloy Ranch was life-changing for her, but pure entertainment for us readers.
Looking at the backlog of book titles Carolyn Brown has, I'm almost ashamed to admit that this is my first time reading anything by her. Where have I been all this time? No worries, though. I'll certainly be looking into more of her books after falling for her easy-to-read, but emotionally potent writing style. I really loved the overall storytelling here, with the down-home sense of humor and the complex relationships forged on the ranch. There didn't seem to be any pretense to the characters. Each of the three sisters were there to prove to themselves that they were strong and could last a year to get partial ownership of the ranch. It was such a unique storyline that it held my interest clear through to the end and I truly found myself wanting each of them to make it.
Abby was such a fun, feisty woman to get to know. She was a tough-as-nails Army Sergeant, but on the inside she was pretty fragile emotionally. And I loved that Cooper was insightful enough to figure that out right away. Their attraction was instant and extremely strong. It took them both by surprise which seemed very realistic to me given their circumstances. They shared a lot of flirty, lighthearted moments, but quite honestly, they had just as many touching and passionate scenes together. Even though it may have been a somewhat typical dilemma where one person didn't know what they wanted and the other person wanted to stay entrenched where they were, Ms. Brown did a great job giving this plot a twist that made it more difficult for Abby to choose what to do.
If you're a fan of sexy-as-hell cowboys, sassy women, and complex plots, definitely check out Daisies in the Canyon. I think romance fans will be impressed with author Carolyn Brown's latest offering.
Book Info:

Publication: December 16th 2014 by Montlake Romance
She's here to claim her birthright…
Ex-army sergeant Abby Malloy feels no loss after the father she never knew passes away. Still, part of Ezra Malloy's ranch belongs to her, and if the stubborn blonde has to live there for a year with two half-sisters who are strangers to her, so be it. Nothing could stand in the way of her inheritance…except a local sheriff wrapped in snug blue jeans and a sexy grin.
He's here to claim her heart…
Cooper Wilson, the local sheriff and rancher next door, is having his world turned upside down. Abby is all straight talk and sweet, lush curves—the kind of woman who gets under his skin in just the right way. Whereas Cooper has roots in Palo Duro Canyon, Abby's got wings. But he knows she belongs here. If she can stop running from her past, he'll happily lead her to a brighter future, one hot cowboy kiss at a time.