In Dangerously Divine (Broken Riders #2) by Deborah Blake, After centuries of being a Rider alongside his brothers Mikhail and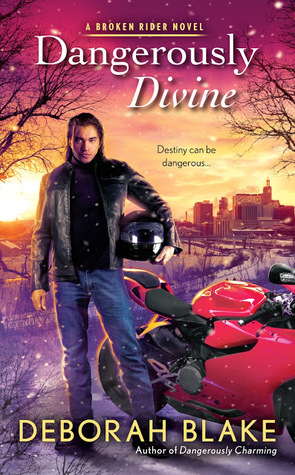 Alexei, Gregori Sun is now a broken warrior who no longer has the inner peace that assisting the Baba Yagas once brought him. His plan is to sequester himself in a monastery in Minneapolis to find his center and connect with the energy of the universe again. But no amount of meditating has helped Gregori's plight and instead, he finds his new supernatural talents are draining him of energy and life. His mother is the only person who might be able to help him but as he's searching for her whereabouts, he meets librarian Ciera Evans and is instantly intrigued. Little does Gregori know that she hides a dangerous secret. One that could put them both in danger. Good thing he's had centuries to hone his skills as a protector because he'll do anything to keep Ciera safe.
'He kissed her as if the touch of his lips on hers could say all the words he was not yet ready to say out loud, as if it could tell her how cherished she was, how special, how loved.'
Hiding her identity has become a force of habit for Ciera. And she's never given it a second thought until the day Gregori steps up to her desk at the library. Assisting him in his research project is interesting enough but once she realizes the handsome wannabe monk has hidden depths, she becomes torn. Ciera has dedicated her adult life to overcoming the terrors of her past and spends her nights cleaning up the streets. If she can help save a street kid's life, so much the better. But as she figures out how much Gregori is battling, both physically and also with an enemy after him, she knows she's going to get drawn into the fray. Ciera's entire life has been one of struggle and fighting in some way or another. At least this time she has something worth fighting for: the love that Gregori gives so unconditionally. She's not sure she's worthy of it, but she's damn sure going to do her best to shield it from harm.
'There was a part of her soul that was completely focused on Gregori Sun. A part of her soul that wanted to see him again more than anything else. A part that, against all odds, believed that any minute now, he was going to walk through that door.'
Dangerously Divine had everything I love about Deborah Blake's work. It featured a loyal hero and a strong heroine who had incredible chemistry together, and of course it was full of magic and supernatural elements that added depth to the story.
'Avoid all violence, Gregori heard his teacher from the monastery say in his head. And then he ran toward trouble, just as he always had.'
I had a lot of fun with Gregori and Ciera's romance, but then again, I always have fun with Deborah Blake's stories. Now the books in this series can be read as standalones, but if you've read book one or even the Baba Yaga series then you're probably as curious about the former Riders as I have been. And Gregori certainly was the noble, honorable man I thought he was. I love that his struggles (as well as Ciera's) were cast in a realistic light, not shying away from his flaws or mistakes. Following Gregori's journey from a broken, weary former Rider to finding his inner peace, strength, and purpose again was utterly heartening. It made for a very emotional story, that's for sure, but it also had a nice bit of humor tucked in here and there to lighten it a bit.
Ciera was one cool heroine. She was a librarian by day–she truly did love books!–and was a badass vigilante by night, trying to help street kids find a better life, as well as keep drug dealers and criminals off the streets. Her backstory was rather difficult to read at times but I loved how Ciera rose above everything and made something wonderful of herself. Talk about inner strength! But what I liked most about her was that even though she wasn't necessarily looking for love, she realized that deep down she craved affection, trust and love, then wanted to do anything possible to cherish what she found. And monk-in-training Gregori turned out to be just the guy for the job. I did have to chuckle that Ciera was afraid telling him she was a vigilante would be too shocking for him, all while Gregori was worried if she found out he was a former Rider and all that had entailed that she'd run for the hills. I just got such a kick out of how they learned the truth about each other little by little and how it played out. Gotta love that whole process of discovery.
With a visit from a Baba Yaga and her Chudo-Yudo and a trip to the Otherworld–along with lots of other magical dealings–Dangerously Divine was one sweet and lovely, yet also exciting, sequel. The next book promises to be every bit as interesting when we see what Alexei Knight, the bad boy & former Rider with a golden heart, has been up to.

Book Info:

Publication: November 28th 2017 | Berkley | Broken Riders #2
The author of the "wonderful" (Tamora Pierce) Baba Yaga novels and Dangerously Charming is back with a magically mesmerizing new tale about the dashing and daring Broken Riders…
The Riders: Three immortal brothers who kept the Baba Yagas safe, now stripped of their summons to protect. But fate is not finished with them—and their new callings are even more powerful…
Though his physical wounds have healed, Gregori Sun, the eldest of the Riders, remains in spiritual turmoil. His search for his mother, the one person able to heal his soul and save his life, is failing—until he crosses paths with a beautiful and fascinating librarian who might be the key to his salvation…
Ciera Evans's bookish ways are just a guise. The product of a difficult past, she has dedicated her life to saving lost teens—by any means necessary. She works alone, but when a dark, brooding stranger proposes they team up to solve both their problems, she is tempted—in more ways than one…
After Ciera and Sun's plans are derailed by dangerous enemies, they find themselves entangled in an ungodly affair—one that will force them to either find new strength together or be forever haunted by their pasts alone.