Daring in the City by Jo Leigh: Little Italy in New York City is the delightful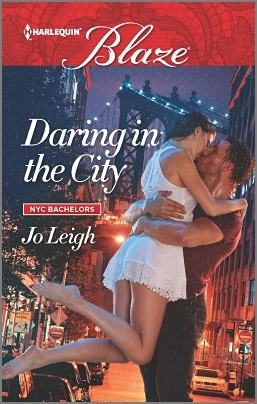 backdrop for this sexy contemporary romance by Jo Leigh. Luca Paladino and his family have a trust that dates back a few generations, resulting in several buildings in Little Italy under their control. For the residents of the area, it's a good thing, rent controlled apartments making it an affordable place for families to live and have their businesses. Luca is living in one of the apartments and doing a complete renovation. As a favor to a friend, he's let someone stay with him in an unused bedroom but the man has since split. He thought it was all over with until a woman shows up, claiming to be the man's business partner and things get a wee bit complicated.
April has left her home town (finally!), and is ready to start her new business with her partner and ex-boyfriend Wes. Only Wes hasn't been returning her calls and when she shows up at the address where he's staying, she discovers he's left her high and dry. Alone, with no friends or other contacts in the city, she turns to Luca, the apartment owner hoping he'll let her stay in the room Wes had been renting for at least a few days while she figures out what she's going to do. Seeing the state of Luca's place, she offers to help him with the renovations in return for some room and board.
Being the gentleman that he is, Luca's not about to kick the poor woman out on the street. She's got a solid business plan to start a concierge business and is clearly not going to sit around moping while she works on overcoming this latest challenge. He agrees to let her stay for a few days, and finds she is indeed very helpful in getting some of the work done in the apartment. But not only that, he can't help but be attracted to her, and the feeling is mutual. The clock is ticking on their time together as April looks for a place to live and solidifies her business plans. Can Luca convince his surprise houseguest that he wants to be part of her future too?
There's lots to love in this entertaining romance! Luca's family is warm and friendly and very Italian, making for some great secondary characters and very enjoyable scenes. While Luca is part of the family business, he also has some woodworking talents and a studio where he designs pieces on the side. April's decision to go out and get her business started on her own without a partner is one he admires, and makes him think about what he wants for his future.
April and Luca are both very likable characters and definitely have great chemistry together. They share some sexy scenes that are grounded in reality, meaning that sometimes things are a bit awkward or funny but that makes them all the more believable. I enjoyed seeing them go from strangers to friends to lovers and having them realize how important they become to each other in a short span of time. The story is not without its conflicts – family expectations and April's determination to go it on her own get their share of page time. The main conflict between April and Luca comes rather late in the story, and resulted in a bit of a rushed ending but a happy one. Overall this is a sexy and lighthearted romance with likable characters in a fun setting. I am intrigued by Luca's brothers and plan to read their stories too!

Book Info:

Publication: Dec 20, 2016 | Harlequin Blaze | NYC Bachelors #2
Why take a bite of the Big Apple when there's bachelor Luca Paladino?
Luca Paladino is moving into his Little Italy apartment now, and nothing–not even incomplete renos–will stop him. Well, except maybe for the incredibly sexy redheaded stranger he finds standing in his unfinished bedroom. In her underwear. Who is tempting him beyond all belief…
April Branagan's been in New York for exactly a minute, and she's already been swindled. Fortunately, she's talked the extra-hunky-with-a-side-of-abs bachelor into letting her stay in his apartment–in return for helping out. But when April and Luca's sexual attraction goes from a simmer to full-on piccante, their little deal turns into a whole lot more than either of them bargained for!