In Darius by J.R. Ward, narrated by Jim Frangione, It's at a particularly low point in Darius's life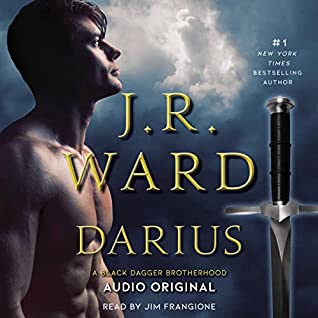 when he is suddenly thrown in the path of a human woman who is to become his mate. Well, actually, *she* is unfortunately in the path of his new BMW, running from someone intending her harm, which causes Darius to crash into her. Even knowing that as a founding member of the Black Dagger Brotherhood he is so fundamentally different from Anne that their relationship might not stand a chance, Darius is still compelled to spend any time he can with the female, foolish though it might seem.
'Sitting back in her modest house, in her modest kitchen, at a small table in a little alcove, Darius realized that he had the whole world in front of him.'
Anne might have just got out of a horrible situation with someone she thought would never harm her, but she can tell that Darius–although rough and gruff on the outside–is a man who truly would never intentionally lay a hand on her. And as she watches him protect her, also introducing her to his unusual friends and staff at the mansion, she sees how Fritz and the others rely on Darius. It's when Anne learns his true nature and then finds out that she's pregnant with his child that it all falls apart. She is soon forced to make life-changing decisions that will set in motion a cascade of events that will push the Brotherhood in directions unforeseen, and bring together the King and Queen who will hopefully lead the Brothers to victory over the Omega.
"I didn't realize how lonely I'd been," her eyes turned to his. "Until now."
A Black Dagger Brotherhood story that tied the past with the present and gave some much longed for insight into a fan favorite character, Darius was as bittersweet and tragic as one would expect. But that ending–that glorious, sweet ending–will have readers cheering as the tears pour down.
"You taught me the most important lesson of them all."
"And what was that?" he asked tensely.
"That love conquers all."
Oh my heart! After listening to J.R. Ward's newest audiobook Darius (narrated by the fantastic Jim Frangione), I felt like I'd been through an ultra marathon. Or an epic battle. Because, wow, did this story get intense. As a fan of the series, I knew it wouldn't be an easy part of the BDB world to read. Darius and Anne's short-lived romance was (at least on the physical realm) tragic and not nearly enough time together for the fated pair. But to go back in their history to when they met, to the horrific events surrounding that first meeting, the subsequent choices they had to make, the loss, pain and grief? Gah. The WARDen brought out so many emotions.
I did love the glimpses we had of how truly captivated Darius and Anne were of each other. It was filled with a tenderness that might seem surprising from a badass fighter like Darius, but his awe at finding his female was something spectacular to witness. Something that the few Brothers who knew (and their doggen, Fritz!!) could agree upon. Theirs might have been a romance fraught with danger and sadness, but it was integral in the continuation of the Brotherhood for Anne and Darius to have that limited time together. And Ward brought that point home with the heartfelt epilogue that literally had me ugly crying–for the losses every single one of the Brothers had been through and for the unbelievable gifts they have also earned through their strife. An HJ Top Pick!
QOTD: Are you a Black Dagger Brotherhood fan? If so, do you have a favorite book, Brother, or couple?
Book Info:

Publication:  July 19th 2022 | Simon & Schuster Audio | Black Dagger Brotherhood #.5
6 hours, 57 minutes
In this powerful audio exclusive, #1 New York Times bestseller J.R. Ward shares the star-crossed love story of reader favorite, and original member of the Black Dagger Brotherhood, Darius.
Darius, son of Marklon, isn't looking for love the night destiny comes to claim him. He's also not interested in crashing his new car. But when a human woman runs out into the road and he must swerve to avoid killing her…everything goes off course.
Disillusioned by his King's lack of leadership and the losses in the war against the Lessening Society, Darius finds purpose in protecting a woman he cannot make his own. Love finds a way, however—until the truth of what he is comes out and she leaves him in horror.
Unbeknownst to them both, Anne is carrying his young, a female who is destined to be Queen—and after a tragic reunion, he vows to protect their daughter. Resigned to perpetual sadness, he is determined to serve the memory of his beloved no matter the cost…unless by some miracle, fate sees fit to once again bring them together.