In Dark Ghost (Dark Saga #28)by Christine Feehan, Andre Boroi had all but given up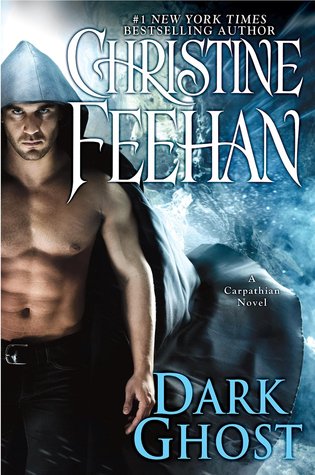 hope of finding his lifemate as he sought refuge in his caves in the Carpathian mountains. After battling a master vampire and its fledglings, he doesn't care if they find him and take his life. But it isn't a vampire who finds Andre, it is human Teagan Joanes. His lifemate. The years of battling vamps have been worth it to finally hold the other half of his soul in his arms. But convincing his modern-minded mate to enter his ancient world will be a fierce challenge.
'For a moment he just stared at her, wondering how he'd gotten so lucky. How he'd managed to find her just when he'd made the decision to let go of life and go out with honor battling a vampire.'
Geologist and empath/healer Teagan was on a quest to find healing stones and gems to help her grandmother when she was attacked by a supposed friend. Escaping high into the mountains, she finds a cave that may allow her safety. Teagan surprisingly encounters a gorgeous but injured man. Their bond is instant, while her healer instincts reach out to him. But when Andre begins speaking of lifemates and vampires, making decisions regarding her safety, can she trust him? She may sense his utter devotion to her, but things are moving way too fast, and are too good, to be real.
'The gentleness, the sweetness in his voice, brought a choking lump to her throat. How had he become such a beautiful man when he'd gone through so much? He should be damaged beyond fixing, and yet he was so careful with her.'
Dark Ghost was a rather intimate paranormal romance in which lifemates Andre and Teagan fought against their clash of wills while succumbing to their unrelenting passion.
Christine Feehan's long-running Dark Saga (or Carpathian) series is still going just as strong today as it was over a decade ago. Somehow even in book twenty-eight, I find the details of the Carpathian ways intriguing. I think readers who are new to this series would be able to pick this up fairly easily as a standalone. Especially where we learned about the vampire slayer's world while Teagan got to know Andre.
I meant it when I said this was an 'intimate' story as most of it takes place with just Andre and Teagan in the caves. This was more of an exploration of their new relationship, so it was deeply personal and emotional. There were some fight scenes that were well done, as always, by Feehan. But what I loved was the way Andre's devotion to Teagan was detailed in his thoughts and conversations. His transformation from having given up all hope of finding her to realizing he was saved by his 'miracle' was so heartwarming and lovely to watch.
Of course it wasn't so easy for Teagan, as she had so many revelations thrown at her. She was pretty stubborn and kept berating Andre for being all alpha male in a modern world. I understood where she was coming from and found it frustrating at times, but overall rather comical. I thought Teagan's abilities as a healer and an empath were a great addition to the story, though, and loved the scenes where she used them to help solve a problem.
The mixture of a dark & sexy Carpathian (just look at that book cover!) with a smart & sassy human completely worked for me. Watching them go from the edge of darkness to the heights of true love? That made this paranormal simply a joy to read.
Book Info:

Published September 1st 2015 | by Berkley | Dark Saga #28
In the new novel by the #1 New York Times bestselling "queen of paranormal romance," (J.R. Ward) a wounded warrior and a woman on the run find salvation, passion and unimaginable danger in the ghostly darkness of the Carpathian Mountains…
He wasn't civilized or tame. He had his own code and he lived by it.
Monk. Bounty hunter. Vampire slayer. Andre Boroi has spent centuries battling the undead, holding out against the dark with honor. But now, gravely wounded by master vampire Costin Popescu, Andre will be easy to track—his spilled blood marking the killing trail for Popescu and his hungry band of underlings. Andre's only chance is to disappear into the gray mist of the Carpathians. To wait. To hope.
She had a healing touch and a scent that was his lifeblood.
In the mountains in search of a precious crystal, geologist Teagan Joanes suddenly finds herself hunted by those she once trusted. Then she comes across the warrior—wounded, wanting and irresistible. Andre has been craving her for an eternity: his lifemate. Her warmth envelops him. Her scent pulsates. And with every beat of her heart, Teagan surrenders to a passion she can't possibly comprehend.
Now they are bound by destiny, but is it enough to keep them safe from a stalking, relentless darkness that threatens to swallow them alive?