In Dark Legacy (Dark #27) by Christine Feehan, Emeline Sanchez grew up on the streets so she knows a thing or two about the evil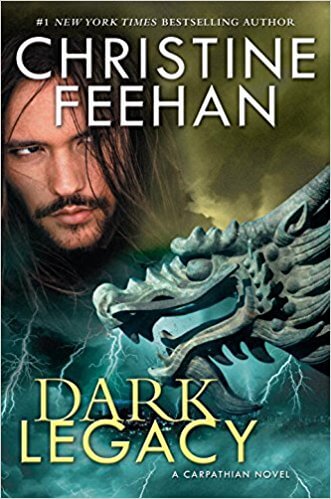 that lurks around every corner. And at a fairly young age she realized that it wasn't just humans she needed to worry about, but that vampires also exist and are a real threat. Even knowing the dangers, Emeline can't stand idly by and let a group of children, street kids just like she once was, be harmed after being taken underground by an evil group of vampires. She puts herself at risk to save them but ends up paying the price when a master vampire tortures her in unimaginable ways, including exchanging blood with her.
'She felt safe. In her life, she didn't remember a single time before him when she'd ever felt safe. Now she equated that with him.'
That blood connection means Vadim is able to communicate telepathically with Emeline, using it to taunt and control her. She's worried it will put the rescued children and her new friends, many who are Carpathians, in danger. But before she can leave the relative safety of the compound she comes face to face with Dragomir, an ancient Carpathian who claims he is her lifemate. Emeline would love to believe the stunningly gorgeous warrior but with Vadim issuing insults in her mind, she can't believe fate would allow her to find someone so wonderful to love and care for her. Dragomir proves how serious he is about her each and every day in numerous ways. Will it be enough, though, to overcome the evil they must face down?
"I'm so in love with you," she admitted softly, her eyes burning with tears. "So very much in love with you I can barely think straight with it."
He framed her face with his hands. "That's a good thing, Emeline. Your heart is in safe hands."
"I know." She was beginning to know, daring to start to believe.
With her unique blend of dark fantasy and sweet & steamy romance, Christine Feehan was at the top of her game with Dark Legacy. We had a swoon-worthy hero. A fierce heroine. And an ultimate battle of good versus evil. You can't ask for much more than that in this reader's humble opinion.
"You've given me your love, your heart and soul. You've given me *you*. There is nothing else, Emeline. You are my miracle."
Trigger warning: Numerous forms of torture/abuse including mind control and rape, graphic fight scenes, imprisonment.
Wow. You wouldn't think that at twenty-seven books into a series it could still be exciting and hold your interest but that's exactly what Dark Legacy did. Picking up right where the previous book left off, we got directly back into the war between Carpathians and vampires, with humans being pulled into the fray as well. And the human we focused on most in this book? Emeline Sanchez, a former street kid who grew up to be strong, independent, but exceedingly loving and caring when it came to those she let into her life. She was hiding a secret (well, a couple secrets actually) from the time she spent under master vampire Vadim's control and was paying the price for it physically and mentally.
I *loved* Emeline and thought she was every bit as tough and loyal as previous heroines in this series, but in her own way. She might not have been a warrior, but she would fight for her loved ones. Especially the children she saved from the underground and eventually her lifemate Dragomir. He was another character I loved. I wasn't so sure at first as he was came across so wild and dangerous. But underneath his scars and menacing persona, Dragomir was just the best hero overall. Smart, brave and endearingly gentle with Emeline, he captured my heart quickly. I thought the two of them were a great combination of skills and personalities–and talk about being sweet together! Dragomir and Emeline's love for each other was utterly perfect and enough to make a reader girl sigh happily with their sweeping romance and the lovely moments they shared.
The story arc for the Dark series is definitely not over, even after the savage battles fought in this installment. There's a new evil mastermind the Carpathians will have to take down, a few new intriguing characters who were introduced, and we even got more in depth with fan favorite character Gary, a healer who will likely be a large part of the story going forward.
Book Info:

Publication: Published September 5th 2017 | Berkley | Dark #27
In a thrilling Carpathian novel from #1 New York Times bestselling author Christine Feehan, a woman fights to free herself from the grip of the vampire trying to possess her…
In a beautiful compound hidden away from the world, Emeline Sanchez tries to blunt the pain that has wracked her body ever since her terrifying ordeal in the labyrinth beneath the city—when she was forced to exchange blood with an evil master vampire.
Now, it's his voice that haunts her…that calls to her in the dark…that never lets her rest. And while the children that she helped to free from his clutches struggle to heal, watched over by their Carpathian protectors, Emeline knows one thing: She must sacrifice herself to keep them all from harm…