Dating for Two by Marie Ferrarella: Erin O'Brien was a survivor, perhaps too much when it got right down to it. She had fought cancer at a young age and won now she spent her days trying to catch up from those years she was battling. She spends her days making toys and giving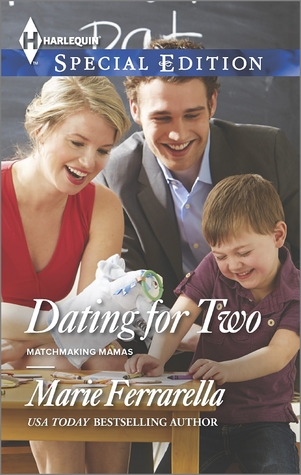 children the ability to use their imagination. What could be better?
Steve Kendall was a widower, a father and a lawyer. His son is his world and as his son retreats further and further into himself he just doesn't know what to do. He is scared, nervous and just trying to be a good dad.
When Erin and Steve meet at career day they have no idea what they are getting into, they just know there is something special there. However some things that are happening are happening a little too weirdly and then when someone from Erin's past makes a reappearance the future will change but the question is how?
Ms. Ferrarella brings us back to the match making mama's series and I have to say I love it. I wish she had spent some more time on the mamas and digging a little deeper into that arena however her back and forth with Erin and Steve makes it all worth it. Erin's caring and Steve's love for Jason was so sweet and precious it made me want that for every child. The focus on family and getting back to basics that shows through in this novel is just amazing not to mention very real. Great addition to this series.
Book Info:

Publication: June 17th 2014 by Harlequin Special Edition Series , #2342
It's all fun and games—until someone falls in love!
Focused on building her toy company, Erin O'Brien didn't have time to think about romance, let alone act on it. Until she met handsome attorney Steve Kendall—and suddenly, pleasure became much more enticing than business! But she soon learned that the sexy lawyer had a second job—as a family man!
A widower, Steve was willing to do anything to reconnect with his son. And the school Career Day was a perfect opportunity…and a fateful one. A certain quirky blonde toy designer instantly won the students' affection—and Steve's interest. Soon he finds himself wanting only one special woman in his life. But is it for his son's benefit, or to heal his own heart?