In Deadly Affair (Southern California Violent Crimes Taskforce #4.5) by Misty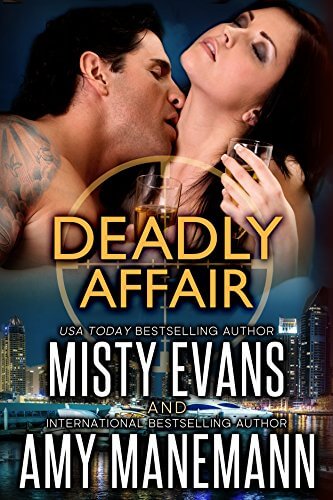 Evans and Amy Manemann , DEA Special Agent Cooper's life's work is to bring down cartel members. Celine met Cooper when she worked on a task force with him. Now an FBI forensic photographer, Celine and Cooper are very involved with each other. Ready to move to the next step, Cooper takes Celina away for a romantic weekend at a B & B on a vineyard. They are both in for surprises this weekend, but the weekend takes a dramatic turn from romance to work related with the discovery of human remains. Cooper and Celina might not be local, but they are still determined to find answers for a long dead person. As they try to do this, will they find the answers they are looking for personally also?
I enjoyed this fast paced romantic suspense by Misty Evans and Any Manemann. It fascinates me how authors can co-write a book so seamlessly that you never know where one finishes and the other starts. I liked how they worked the mystery of the bones and long ago murder, but managed to easily bring the plot back to Celina and Cooper and their relationship. Because as we see, real life doesn't wait.
I liked Cooper and Celina, and I could feel the connection between them as much as I could feel that hint of insecurity people in relationships sometimes have. I liked that we saw the personal and professional sides of them in Deadly Affair, and the plot blended this well and relevantly. They felt like real people who cared not only about each other but about doing their jobs. I was very interested to see if they'd get to what they'd each planned for the weekend, their reactions, and how it would work out. The mystery/suspense part of the plot is actually quite sad, bringing forward a hidden history and a story few would have known if Celina and Cooper hadn't spotted the bones. I had a vague inkling about the mystery, but it played out in a way I didn't really expect at all, and Misty and Amy really made me feel for this person and those who knew this person.
The secondary characters and setting are perfect. They are an important part of the plot, so I won't delve deeply into them, but I liked the characters used in Deadly Affair!
Misty Evans and Amy Manemann held my interest in this fast paced, intriguing, and emotional novella. I would recommend Deadly Affair to any romantic suspense reader. Part of the Southern California Violent Crimes Taskforce series, it can be read alone, but the whole series is worth reading!
Book Info:

Published: September 12th 2016 | (Southern California Violent Crimes Taskforce #4.5)
Deadly Affair, an SCVC Taskforce novella
Cooper Harris, head of the SCVC Taskforce and nicknamed The Beast, isn't afraid of anything…except that the woman who rocks his world may be about to dump him. Celina is acting distant and secretive while an engagement ring burns a hole in Cooper's pocket. Whisking her away for a romantic weekend at a Northern California vineyard, he hopes to reignite the spark between them and get up the nerve to finally ask her to marry him.
Feisty crime scene photographer Celina Davenport hates keeping secrets. The baby growing inside her is cause for celebration, but Cooper has a son from a previous marriage and claims he doesn't want more children because of his dangerous job. Celina understands what makes The Beast tick, and she also knows he'll be a great dad to their child. She only needs the perfect moment to break the news.
Before either can come clean, Cooper and Celina stumble upon human bones and realize the beautiful vineyard hides a dark and haunting past filled with love, betrayal and murder. Can they unravel the mystery buried in the Northern California hills and bring a killer to justice? Or will the secrets they're keeping from each other put them in deeper danger than they could ever imagine?