In Deadly Decor (Caprice De Luca Mystery #2) by Karen Rose Smith, Caprice is a former decorator, now successful home stager who is obviously very good at her job. Caprice is tight with her family, especially her sisters. When her pregnant sister Bella appears to be having marriage problems and is suddenly going out for coffee with Bob, a former boyfriend of Bella's and a painter Caprice uses at times, Caprice becomes concerned. The concern escalates when Bob is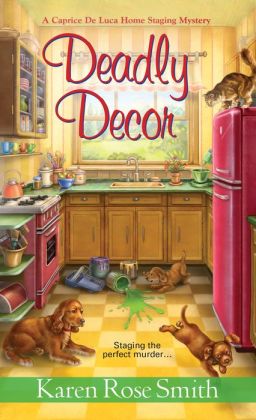 found dead and Bella and her husband suddenly find themselves being looked upon as murder suspects.
Suddenly Caprice is no longer only a home stager, she is an amateur detective, determined to find out the truth about what happened to Bob…and who did it. As Caprice delves deeper into the mystery of Bob's murder, she discovers Bob was a lot more complicated than he appeared to be. Someone also doesn't want Caprice nosing around and if she's not careful soon she will be in danger too…
Deadly Decor is a well paced, small town mystery. Although at times I felt like I was missing something since I didn't read the first book in this series, for the most part I found Deadly Decor to be a fun, engaging read with a variety of background characters. Caprice of course is our heroine, and she is a very deep character. She is a very busy person between her business, the stray animals who find her, her family and her relationship with Seth, who she is dating throughout Deadly Decor. She is straight forward, has an incredible way with people, and is someone who would be a lot of fun to hang around with! Caprice's character is very well written and defined in Deadly Decor. There is a little subplot with her and Seth's romance, and even though it was very secondary compared to Bob's murder, I really enjoyed seeing their relationship evolve throughout Deadly Decor, and seeing where they would end up. There are a lot of great secondary characters and their stories in Deadly Decor, and Karen manages to weave them in without complicating or diluting the main story line of Deadly Decor. I really look forward to reading more about some of these characters.
Karen Rose Smith managed to keep me guessing in Deadly Decor. Her writing has an easy to flow to it that will engage you in the story and entertain you. I'd recommend Deadly Decor to any reader who will enjoy a small town mystery with a subtle romantic flair.
Book Info:

June 3rd 2014 by Kensington | (Caprice De Luca Mystery #2)
Quiet Kismet, Pennsylvania, may look like any other small town, but as a home stager, Caprice De Luca can see behind closed doors–and it seems someone has designs on murder. . .Life is a full house for Caprice these days. She's dating, she's rescuing adorable cocker spaniels, and she's decorating the roomy interiors of Kismet's most well-heeled residents with fun fantasy themes. But she's worried about her pregnant sister. Bella's marriage is coming apart like a bad wallpaper job, and to make matters worse, she's decided to meet up with a former flame Bob Preston, a house painter Caprice frequently employs. When he's found dead in a pool of green paint swirling with blood, it's time for Caprice to stage an investigation. With all eyes trained on Bella's husband, Caprice shifts her attention from finding the perfect curtains to finding the perfect culprit. . .