In Definitely, Maybe in Love by Ophelia London Spring HoneyCutt wants to ace her sustainable living thesis at any cost and when her professor suggests that with a new perspective her paper could get published, she decides to make it happen at any cost.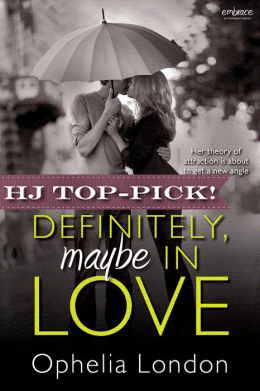 The only person willing to give his input in her thesis is her arch enemy and sexy neighbour Henry Knightly. As they both work on their thesis, Spring finds out her preconcieved notions about Henry were so wrong and Henry is so much more than old money and I am never wrong attitude.
Between very vocal debate sessions and long arguments, Henry and Spring are gonna discover so much more about each other but will their pride interfere with what they really feel about each other..??
"I will have my revenge," I forced myself to add.
"I'm counting on it."
When he pulled back a slow grin, the pit of my stomach
flooded with heat and I caught myself staring at his cranberry stained
mouth. I needed to get out of there, now, before I did
something I would regret.
Henry picked up a hand towel off the counter, wound it, and
snapped the end in my direction. "Now step out back," he said,
"so I can hose you off."
Definitely, Maybe in Love by Ophelia London is a modern take on Pride and Prejudice that I became totally addicted to from the first page …!!. Pride and Prejudice has been retold many times with some hits and misses.This one was a one big hit for me and I just fell in love with the story and characters from the moment Spring Honeycutt makes her grand entrance on the first page. She was my perfect heroine because she was half geek, very vocal about her thoughts and I could relate to her in so many ways. Henry was the perfect Mr. Darcy with his I am always right attitude and despite all the arguing, he cared a lot for Spring. I only had a problem with Julia (Jane Bennet) because I thought Jane was quite sensible and mature while Julia could not remind me much of the Jane I so much admired. I loved Ophelia's take on the characters on Mr. Collins and Charlotte, and the role they play as Mel and Tyler was so much fun to read.
"We still have to get Henry's answers fi rst. Three guilty pleasures."
"Oh, yeah, umm." Henry pulled himself forward, fi ngering
his chin. "Let's see. Harley-Davidsons, comic books, and…" He
raised a lightning-quick smile at no one in particular. "And a
certain woman who's not afraid to tell it like it is. Defi nitely my
guilty pleasure number one at the moment." He slowly moved his
eyes toward me and winked again. "Oh, and cranberries."
Ophelia London keeps the basic plot-line the same but gives a new modern twist to a much loved classic.I totally loved this one and I am sure everyone who loves a good romance will definitely share my sentiment.
After reading this, cranberries just took on a whole new meaning for me and Bruno Mars just became my new favorite singer. I could go on and on but where is the fun in that..??. Go on grab it and give it a read if you love Pride and Prejudice or if you want a good romance with a great story.
Book Info:

 HJ Top Pick
Published October 28th 2013 by Entangled: Embrace
Spring Honeycutt wants two things: to ace her sustainable living thesis and to save the environment. Both seem hopelessly unattainable until her college professor suggests that with a new angle, her paper could be published. Spring swears she'll do whatever it takes to ensure that happens.
"Whatever it takes," however, means forming a partnership with the very hot, very privileged, very conceited Henry Knightly.
Henry is Spring's only hope at publication, but he's also the über-rich son of a land developer and cash-strapped Spring's polar opposite. Too bad she can't help being attracted to the way he pushes her buttons, both politically and physically. As they work on her thesis, Spring finds there's more to Henry than his old money and argyle sweaters…but can she drop the loud-and-proud act long enough to let him in? Suddenly, choosing between what she wants and what she needs puts Spring at odds with everything she believes in.
Definitely, Maybe in Love is a modern take on Pride and Prejudice that proves true love is worth risking a little pride.