Desire and the Deep Blue Sea by Olivia Dade is a sexy and fun novella that explores real life challenges that affect relationships and how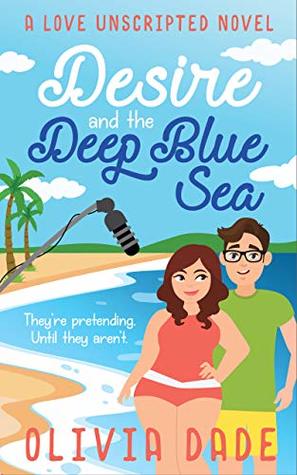 important communication is on the path to a happy ever after.
Callie can't stand her librarian co-worker Thomas. Even though they got along well when he first started and he's kind and friendly, his work habits have contributed to a lot of stress in her life, increased her anxiety levels and generally made her miserable. On top of that, she recently broke up with her boyfriend. That's a significant problem because they were supposed to go on a reality show together, HATV's 'Island Match', and her only real chance of a tropical beach vacation for some much needed rest and relaxation is looking farther and farther away.
In a fit of panic, she tells the producers of the show not to worry, she has a new boyfriend already – Thomas! He's the only person she can think of who would likely not turn down the chance to go check out some tropical island locales as part of the reality show mission, and who she could probably convince to pretend to be her boyfriend. Even though she tries to avoid him at work. Right. She can do this for the beach reward.
Unbeknownst to Callie, Thomas has a huge crush on her. He doesn't understand why she stopped talking to him but when she tells him her dilemma and asks for his help he is thrilled to be able to assist her. And to pretend to be dating? Heaven! But in the course of their pretense, can they actually find their way to real happy ending?
This is an enjoyable, sexy and fun read with characters who are very appealing and who just needed a chance to have some real conversations outside of a work environment. Thomas is appalled to discover that his absentmindedness at work, and his sometimes singular focus made Callie feel inadequate and pushed her more and more to the sidelines of a job she once loved. Now that he knows her true feelings, he will do everything in his power to make Callie feel listened to, respected and appreciated.
For her part, it's a weight off Callie's chest to share her feelings with Thomas, to explain how anxiety affects her and have him be remorseful and apologetic. He's not the villain of the story, and as she comes to understand him better, they are able to rekindle the friendship they had when they first started working together. She can admit that she's attracted to him, and since the feeling is definitely mutual, they explore a more intimate relationship while the backdrop of a tropical vacation plays out. Figuring out how to translate that into something more permanent at home takes a bit of work but it all comes together in the end. Olivia Dade writes real characters of all shapes and sizes, with feelings and flaws and makes her happy endings ones that any reader can relate to. I highly recommend her books and look forward to more of this latest series!

Book Info:

Publication: July 18, 2019 | Pub: Olivia Dade | Love Unscripted #1
They're pretending. Until they aren't.
Thomas McKinney has never wanted a woman the way he wants Callie Adesso. Since she started working alongside him at the Colonial Marysburg Research Library, he's spent his desk shifts fumbling pencils, tripping over his own feet, and struggling to remember both the Dewey Decimal System and the existence of her inconvenient boyfriend. Now, however, Callie is suddenly single–and in need of a last-minute faux-boyfriend for an episode of HATV's Island Match. Thomas is more than happy to play the part…and in the process, convince Callie that a week together isn't nearly long enough.
Callie has never found a man as irritating as she finds Thomas. He may be brilliant, kind, and frustratingly handsome, but the absent-minded librarian also makes every workday an anxiety-inducing exercise in stress. Even seven days in paradise by his side won't change her opinion of him. Really. No matter how attentive he is. And gentle. And sexy.
One plane ride later, the two of them are spending long, hot days under the sun and on display, pretending to be in love for a television show. This may be a vacation, but it's also an act–as well as Thomas's last chance to persuade the woman of his dreams to include him in hers. And soon, the island heat isn't the only thing steaming up HATV's cameras..