In My Favorite Cowboy by Donna Grant, veterinarian Audrey Martinez is called to the ranch of her father's friend when several of his horses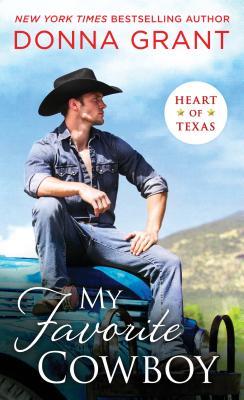 came down with a mysterious illness. Caleb Harper and his brother arrive to talk to David about purchasing horses from him, but when they learn of the illnesses, something isn't adding up. Their special forces training kicks in, and they, along with their brother-in-law, Audrey, and her sister, come together to get to the bottom of the mystery. When it becomes clear that Audrey is the true target, will Caleb be able to keep her safe?
I liked Audrey and Caleb. Audrey is willing to do whatever it takes to get to the bottom of what is making the horses ill, even if it means putting herself in danger by staying in the stalls with them. And while Caleb didn't have to, he and his family step up to help Audrey and David determine what was happening.
The chemistry between Audrey and Caleb was immediate, but they both have issues that cause them to have a fear of committment. I enjoyed watching them work through with their issues with the help of their families. It's clear that both of them have siblings who love them and just want them to be happy.
I enjoyed the mystery and the suspense of the story. I'll admit I didn't know who the culprit was until it was revealed, which I really liked. I thought the reason the culprit had for their actions was weak, but it didn't take away from my overall enjoyment of the book.
If you enjoy romantic suspense and cowboys, look no further because this book combines the two. My Favorite Cowboy is a page turner that will keep the attention of readers from the first page to the last.
Book Info:

Publication: February 26, 2019 | St. Martin's Press | Heart of Texas #3
Audrey Martinez is a veterinarian who has devoted her whole life to the care and protection of horses—even if doing so leaves her little time for meeting a man. Who would have thought that a strange case of criminal horseplay would lead her to falling deeply, wildly in love? If only the man who makes her heart race faster than a wild mustang would let his guard down, that is. . .
Caleb Harper is no ordinary cowboy. Sure, he wears his hat, boots, and jeans like a second skin, and displays an easygoing charm that comes from years of working on the ranch. But with his military background, and Army buddies at his side, he is tried-and-true Texas tough. Audrey knows she can trust a man like Caleb to help her save horses. But can Caleb trust himself to resist his attraction to Audrey—or will the sparks of their desire end up getting them burned?