Desperate Measures by Linda Cajio is a sweet and fun read that will keep you wondering what's going to happen next.
Ellen Kitteridge wants nothing to do with having a public life, after her a failed marriage and the death of her son she cannot even consider being in the spotlight again.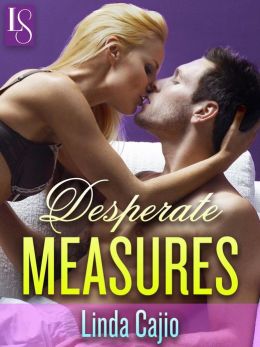 Joe Carlini has to catch his cousin Mario with proof that he is trying to sell the family recipe for their special sauce. Otherwise his family will loose millions and the company will be ruined. So when he has to go to a skating rink to try and catch him, he doesn't expect to be so easily spotted, but it's adults only morning and he is the only one that cannot skate. With the help of Ellen Joe starts to skate but when he looses control and skates out of the rink and onto the street he not only looses his cousin he also looses Ellen. He knows that she is the only one that can help him find out who his cousin met at the skating rink, but first he must convince her that he is not trying to use her in any way and that his intentions are sincere. Even if the instant attraction and chemistry they had cannot be denied.
As Ellen helps Joe try to catch his cousin, she has more fun than she has had since the death of her son. With him she starting to laugh again, but she will have to open her heart if she wants to have more than just something temporary with him. While Joe will have to get past his insecurity of not being enough for someone that used to be a princess and have confidence that his love will be more than enough.
Desperate Measures by Linda Cajio is another great read. She knows how to weave a tale that will keep you hooked from beginning to end.
Book Info
Publisher: Loveswept (April 8, 2013)
Ellen Kitteridge is doing her best to put a personal but very public tragedy behind her. Trusting any man—especially one who radiates power and sensuality like Joe Carlini— isn't easy . . . but it sure is fun. She's never felt more alive as she helps Joe track down whoever is stealing Carlini family secrets. Playing spy games, with lust heating every moment, has taken her way beyond her comfort zone—and now she's wondering if she's gone too far.
Carlini Foods is Joe's life, but Ellen, with her perfect mix of vixen and vulnerability, makes him realize how hungry his heart has become. Fate has made her his co-conspirator as he ferrets out a traitor in the ranks. Now it's up to Joe to make sure she stays close. Ellen may have been hurt in the past, but Joe's not going to give up on the best thing that has ever happened to him.