In Devil in Disguise (The Ravenels #7) by Lisa Kleypas, Running a shipping company is usually unheard of for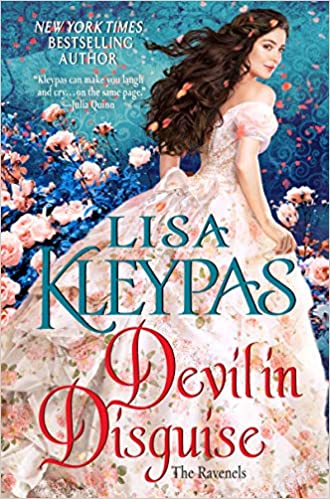 a woman, but in Lady Merritt Sterling's case, as a widow she's given certain leeway. Taking charge after her husband's death was one way she could focus on something other than her grief. And now, Merritt has earned the respect of her customers and proven her business acumen. Which comes in handy when dealing with an angry (entirely too handsome) Scotsman whose whisky delivery had some issues. Keir MacRae was easily soothed by Merritt's trademark charm. But it is Merritt who will need help dealing with the sweet brute of a man who barges into her life and changes everything in an instant with their fiery chemistry.
'He had to stop saying wonderful, endearing things in that accent, and standing there with that stray lock of gold-burnished hair falling over his eyes…how was a woman supposed to think straight?'
Keir would much rather be back on his homeland, a Scottish island called Islay, than in dirty, noisy London. Especially when his whisky is in jeopardy of not being properly bonded after a warehouse mix up. But somehow Lady Merritt sets everything to right in a blink of his eye. Keir feels compelled to stay and get to know the bonnie lass better but he knows she's very much above his station. And he refuses to have her caught in a scandal. However, when Keir is attacked–twice–he can't deny that his life is in danger and that it would be foolish of him to turn down Merritt's help, considering the resources at her disposal. He didn't realize that the more time he is in her company, though, the more difficult it will be to leave her lovely presence.
"How my arms love the feel of you, lass."
Achingly romantic and so very delicious, Devil in Disguise will make readers swoon. It will also keep them completely captivated with the thrilling plot which had a few surprises that can't be missed.
'Fortunately, a woman of common sense always knew when to throw caution to the wind.
She went to Keir in a few strides, wrapped her arms around his neck, and pressed her lips to his.'
How fun it was to be back in Lisa Kleypas's Ravenels series again! And our couple this time around, Merritt and Keir, were everything together. (Keir is my new favorite of Kleypas's heroes–besides Sebastian of course) They were one of those pairs who just seemed to fit perfectly, who balanced each other out, even if they started off from very different worlds socially. They were both stubborn workaholics, which as you can imagine, made their conversations quite fun. Keir and Merritt were used to running the show in their respective businesses. So I loved that Keir wasn't put off by Merritt having a position of power in her deceased husband's shipping company, and that, instead, it raised her up a notch or two, earning his respect even more.
I was so happy that the emotional intensity Kleypas is known for was very much present here. Not only did it make Keir and Merritt's relationship build slowly in a realistic way, but it meant every scene together was intimate–and created a rawness about their feelings that made their connection leap off the page. Merritt and Keir's story was wrapped up in a fairly quick way. But they had a long road of figuring out their future and trying to stay out of harm's way before they got to that HEA. So I was fine overall with how everything was left at the end.
There were several cameos from previous characters in The Ravenels and the Wallflowers series which was ridiculously fun. I know some fans were nervous to find out how Keir is related to a noble family we've already met but don't worry–it was a surprising twist that felt right very quickly with how Kleypas handled it.
A sexy Scot and a strong, compassionate Englishwoman found danger at every turn in Devil in Disguise. If you're looking for a sweepingly romantic historical that will leave you with a huge smile on your face, a Lisa Kleypas novel is always the answer.

QOTD: Devil in Disguise is set in the Victorian age (1880) but many popular historicals are during the Regency or even the medieval period. Do you have a favorite era in which historical romances are set?

Book Info:

Publication: Expected publication: July 27, 2021 | Avon | The Ravenels #7
New York Times bestseller Lisa Kleypas returns with an enthralling and steaming romance between a widowed lady and a Scot on the run—who may have connections to one of London's most noble families.
"The devil never tries to make people do the wrong thing by scaring them. He does it by tempting them."
Lady Merritt Sterling, a strong-willed young widow who's running her late husband's shipping company, knows London society is dying to catch her in a scandal. So far, she's been too smart to provide them with one. But then she meets Keir MacRae, a rough-and-rugged Scottish whisky distiller, and all her sensible plans vanish like smoke. They couldn't be more different, but their attraction is powerful, raw and irresistible.
From the moment Keir MacRae arrives in London, he has two goals. One: don't fall in love with the dazzling Lady Merritt Sterling. Two: avoid being killed.
So far, neither of those is going well.
Keir doesn't know why someone wants him dead until fate reveals his secret connection to one of England's most powerful families. His world is thrown into upheaval, and the only one he trusts is Merritt.
Their passion blazes with an intensity Merritt has never known before, making her long for the one thing she can't have from Keir MacRae: forever. As danger draws closer, she'll do whatever it takes to save the man she loves… even knowing he might be the devil in disguise.