In Devil's Bargain by Christine Warren, Lilli Corbin is not your typical bounty hunter. First, she is half human and half devil. Second, she chases down preternatural beings intent on doing others harm. When one such chase led her to Hell a few years back,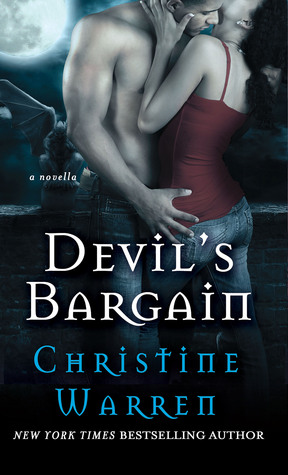 Lilli found herself making a making a deal with a devil prince. One that would have her doing his bidding in three favors he could call upon at any time. Once she gets this last favor out of the way, Lilli will finally be free from Samael.
'How could this have happened? How could she have fallen in love with a man she'd known for less than a single day? Less than a single night!'
Lilli's final challenge is to find an ancient book that supposedly belongs to Samael. It seems too easy considering what he could request from her. Her instincts are correct when she locates the book and falls head over heels for Aaron, who has it in his possession. Powerfully magic in his own right, he helps Lilli devise a plan to keep the world safe from the apocalypse Samael wants to bring down on earth. They only hope they'll get the chance to live long enough to see what this budding attraction between them turns into.
"From here on out, things might start to get tricky."
"Devils and demons and apocalypse, oh my?" he grinned back. Bring 'em on."
Devil's Bargain was an action-packed novella with a wonderfully sarcastic heroine who swoops in to save the world from a devil prince out to bring on the apocalypse. (Wow, that was a mouthful!)
I'm sure I am not alone in enjoying stories with strong, smart female characters. Lilli definitely fits that description perfectly. She may have been half devil, but she believed in doing the right thing and keeping people safe from criminals and miscreants. You've gotta give her props for that. It's always nice to see a heroine who is intelligent, sure of herself, but still feminine. I loved that Lilli didn't allow herself to be too scared to follow her feelings for Aaron and instead embraced what was growing between them.
I thought Christine Warren did a nice job of conveying the depth of feelings that happened quickly between Aaron and Lilli. Especially in a novella length romance. It doesn't always come across as realistic in shorter stories, but it worked well here, and I could feel that connection between them. The premise was also very interesting to me, as someone who loves paranormal/fantasy. My attention was held all the way through to the very end and I thought the final outcome was quite fitting and so very romantic.
This may be a quick read, but it is a powerful story about good vs. evil, hope, and the beginnings of a strong relationship.
Book Info:

Published August 5th 2014 by St. Martin's Paperbacks
First released in the HUNTRESS anthology, get caught up in the magic and sensuality of bestselling author Christine Warren's erotic paranormal short story "Devil's Bargain." Now available for the first time ever as a standalone e-book. It takes a real man to satisfy the powers and passions of this supernatural huntress.
Supernatural bounty hunter Lilli Corbin made a pact with the Prince of Hell: She agreed to recover a book of prophecies. When she learns it could trigger the apocalypse, Lilli is forced to make the ultimate choice: save her soul, or the man she loves?