Never Seduce a Sheikh by Jackie Ashenden: Lily Harkness was a gold medal swimmer, and a CEO of a major oil company and she was in Dahar to make an oil deal, a big one. However life was different in Dahar and things she thought she had buried seemed to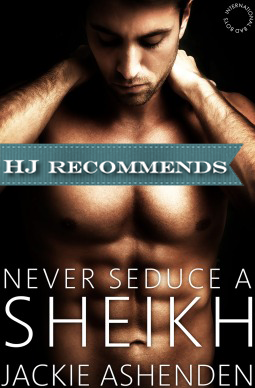 be bubbling to the top of her life. What was she trying to prove? Who was she trying to prove it to and by the end of this trip to Dahar would she still be the same woman? Or would this trip make her more assured?
Sheikh Isma'il ibn Khalid al Zahar was determined to rid his country of his father's legacy. A bitter, evil and destructive man Isma'il was terrified his father's DNA filled with those lovely things had somehow tainted him. Isma'il just wanted what was best for his country, his people, an oil deal would help. What he wasn't counting on was this western woman who stirred everything in him.
These two scarred and scared people didn't know why fate had brought them together or how explosive their relationship could be, only that once they started down this path they were destined to follow. Now the only question is as things start coming to the light will they be burned together forever or be half way around the world from one another?
Ms. Ashenden has got the heat with this book. OMG is really all I can say. The romance is so good, the heat is HOT and subtle elements of BDSM as well. This is not a book for the faint of heart but this is not a book to be missed either. While it's the first of it's kind put out by Tule Publishing it is something that will hit fans of multiple genres. I don't give out 5 stars often but the path this took me down deserves even more.
Book Info:

Published October 10th 2014 by Tule Publishing – Tule Holiday Books
How deep into the darkness will she have to go to help bring him into the light?
Oil baronness Lily Harkness isn't so much steel magnolia as titanium cactus. She's used to living in a man's world and when she plays, she plays to win. She wants exclusive oil rights to ensure her company remains at the top and she's not walking away empty handed.
Sheikh Isma'il al Zahara rules his country his way. Always in command, he has his own plans for his country's oil and it's not just about the money. But he's intrigued by the buttoned up business woman who's come to his country to strike a deal. He can't help but wonder what's beneath her icy facade.
Lily's desires are buried down deep, but her attraction to Isma'il is too strong to deny. Will seducing the sheikh cost Lily her body and her soul?