In Devil's Daughter (The Ravenels #5) by Lisa Kleypas , After losing her beloved husband Henry and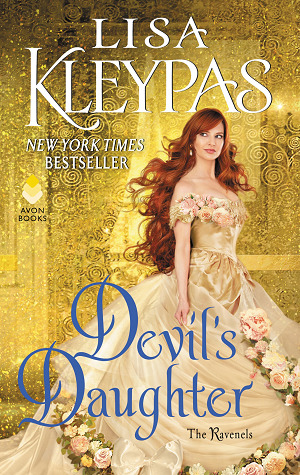 taking over their estate with little to no experience in such matters, Phoebe, Lady Clare, tells herself that with her two brilliant young boys by her side, she can muddle through. When she emerges from two years of mourning to travel to a family gathering, Phoebe is surprised by her attraction to a guest. But she is even more shocked that it is West Ravenel who caught her eye. The man who bullied Henry when they were lads. Dismay leads to something more like friendship and then even closer to adoration later on when Phoebe gets to know the man West has become. And suddenly her whole future looks to be a lot brighter than she had pictured for herself when she was mired in grief.
'He was so very different from what she'd expected. No matter what he had once been, the cruel and unhappy boy seemed to have made himself into someone capable of empathy and understanding. Not a brute. Not a bad man at all.'
There was a time when, after a rough childhood, West Ravenel didn't really care about his treatment of others as a youngster–or the debauchery he got into as an adult. But he's been on a mission to redeem himself since he and his siblings had some major changes in their lives a few years back. Happy to see his family thriving and even having a wedding at their estate, Eversby Priory, West becomes enthralled with one of their guests: a beautiful redhead with two small children in tow. Who is none other than the daughter of the devil duke himself, Sebastian St. Vincent. Normally West wouldn't become involved with a woman with young children but he can't seem to stay away from Phoebe. He knows he's nowhere near good enough a man for a woman of her grace and strong moral code. Although when the lady surprisingly offers stolen moments of passion, who is a former rake to say no?
"No woman in my life, before or after you, will ever thrill me as you do. I don't know what to call this. But I do know you should be worshiped by a man who's earned the right–and that man is not me."
With witty dialogue, a charismatic, self-deprecating hero and a lovely heroine who was the daughter of Sebastian St. Vincent from Devil in Winter (swoon!), Devil's Daughter was a historical romance that charmed me from page one.
Impulsively she stood on her toes and whispered in his ear, "There's nothing wicked about you, except your kisses." And she fled the room while she was still able.
First off, can we talk about that beautiful, eye-catching cover? It's pulled directly from the pages of this book, bringing to life how Kleypas described our heroine Phoebe as well as the gorgeous dress she wore during an important event in the story. I think fans of the Wallflowers series will be happy to see Phoebe and her entertaining family–particularly her mother and father, Evie and Sebastian, who were still completely in love and so very wicked together. Sebastian just floored me with his meddlesome ways. I knew he'd become the type of father who adored his children but I didn't expect him to butt in and (lovingly) manipulate situations as he did. I'm not sure why, though, as fans already knew about his tricky ways. *giggle*
Now, West and Phoebe…I know some readers were expecting huge fireworks and a stormy, super sexy affair between them reminiscent of Sebastian and Evie's. But it wasn't quite the same. Instead it felt to me like Kleypas created a friendship between Phoebe and West that began in animosity on her part, aligning them in a common cause to figure out her estate issues, and the romance slowly built from there. Don't get me wrong. The love scenes were heated, passionate and everything I look for in Kleypas' writing. But there was almost a somber feel to their journey at times where West and Phoebe were connected in a way through her late husband Henry, who West unfortunately bullied in their younger years. Which led to West also put himself down regarding his past. Thankfully he was a much better man than he let himself believe.
West was more than I had hoped for in a hero. He was hysterically funny, so wonderful with Phoebe's two young boys, and he cherished his own siblings. Even though he acted as though they tried his patience more often than not. I *loved* West. And I loved him for Phoebe. She had taken the world upon her shoulders with an ailing husband, then as a widow with young children and an estate to look after. She had the makings of an unhappy, lonely martyr–until West entered the picture. It was fun watching Phoebe allow herself to begin to feel like a woman who deserved to feel passion–and eventually love–again. It kind of broke my heart with how she was being held back by certain people in her life. But she eventually showed the backbone the St. Vincent family was known for and took charge of things in her own way, which I loved.
A seductive page-turner, Devil's Daughter will be an instant classic for fans of Lisa Kleypas' heartfelt and emotionally charged historical romances.
Book Info:

Publication: Published February 19th 2019 | Avon | The Ravenels #5
New York Times bestselling author Lisa Kleypas delivers a scintillating tale of a beautiful, young widow who finds passion with the one man she shouldn't…
Although beautiful young widow Phoebe, Lady Clare, has never met West Ravenel, she knows one thing for certain: he's a mean, rotten bully. Back in boarding school, he made her late husband's life a misery, and she'll never forgive him for it. But when Phoebe attends a family wedding, she encounters a dashing and impossibly charming stranger who sends a fire-and-ice jolt of attraction through her. And then he introduces himself…as none other than West Ravenel.
West is a man with a tarnished past. No apologies, no excuses. However, from the moment he meets Phoebe, West is consumed by irresistible desire…not to mention the bitter awareness that a woman like her is far out of his reach. What West doesn't bargain on is that Phoebe is no straitlaced aristocratic lady. She's the daughter of a strong-willed wallflower who long ago eloped with Sebastian, Lord St. Vincent—the most devilishly wicked rake in England.
Before long, Phoebe sets out to seduce the man who has awakened her fiery nature and shown her unimaginable pleasure. Will their overwhelming passion be enough to overcome the obstacles of the past?
Only the devil's daughter knows…