Diamond in the Desert by Susan Stephens: When the Skavanga diamond mines running low on funds with plenty of gems to unearth, Britt Skavanga finds a consortium willing to invest and give her company the boost it needs to get the job done. The consortium is a group of men, one of which is Sheikh Sharif al Kareshi, who is a geologist. She makes arrangements to meet with the Sheikh, but he informs her he's decided to send an envoy instead.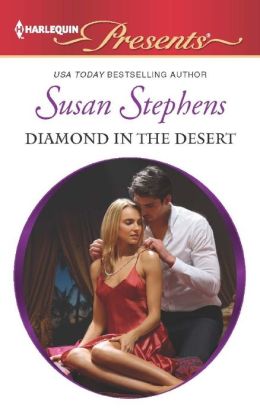 Sharif would like to investigate the nordic mines without the hoopla being a Sheikh involves, so he takes the trip to meet with all-business Britt himself. However, he asks her to call him Emir and leads her to believe he is simply an employee of Kareshi.
After tension so thick diamonds wouldn't cut through it during their initial meeting, they lose control and give in to passion right in the boardroom. Both of them believe the interlude will allow them to move on and concentrate on the business at hand, but neither of them expect to stay on edge around each other.
A trip to Britt's family cabin near the mines puts them in close quarters, and she shows him the pleasures of her country's savusauna rituals. They manage to get themselves hotter than the steam, and fall back into each other's arms. When she wakes up to find him packing, she feels let down… until she gets a call that the consortium is taking over with the help of their errant brother, Tyr. Not only that, but she learns that the man she called "Emir" (which means 'king') is really Sheikh Sharif.
The sting of his betrayal sends her to Kareshi to confront him, but manages to almost get herself killed on the way. Sharif saves her and installs her in his 'harem tent', where she again gives in to her feelings for him. He can't reveal the secrets Tyr has asked him to keep, but how will he ever regain her trust if she doesn't know the truth. That he and her brother have only done what was necessary to save the company and keep their family legacy intact.
I must say, the sex scenes were pretty hot, but things happened so quickly between them I never really understood their attraction to each other. And love? I just wasn't sure how that came about. The descriptions of the two country's environs and rituals were amazingly written, but I wanted to feel more of a connection between the Hero and Heroine.
Book Info
Publication Date: May 21, 2013 | Series: Harlequin Presents (Book 3149)
Breathless in a Bedouin tent
With the future of the Skavanga diamond mine in jeopardy, heiress Britt Skavanga needs an injection of cash—fast. She finds it in the mysterious Arabian investor known only as 
Emir…
.
Britt travels to the desert kingdom of Kareshi to confront her arrogant benefactor. If diamonds are in Britt's blood, then the scorching desert sand runs through Sheikh Sharif al Kareshi's. He's determined to show arctic beauty Britt how things are really done in Kareshi, including how hot nights in the desert can be….