Dirty Devil by Jackie Ashenden is a sexy billionaire romance set in Hong Kong with a would-be thief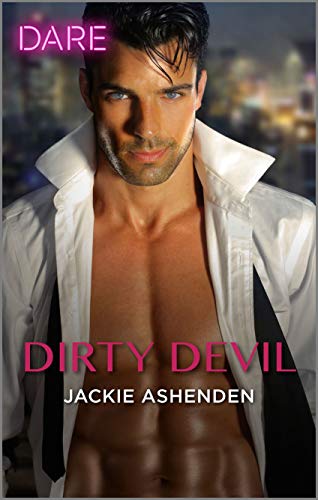 catching the eye of her mark.
Thea Smith is on a mission. She's a 're-acquisition' agent, recovering stolen goods for people using some under the radar skills, training she received while under the wing of a mentor. To keep his legacy, she's used to being part of the background while doing her jobs, but she secretly longs to be seen. And then she gets her wish.
Damian Blackwood assumes that the cute waitress not on the employee list is up to something, and he's right, when he discovers her in his private office trying to get into his safe. He's fully aware when she tries to seduce him that it's meant as a distraction but he can't deny he's attracted to her and he's not an unwilling participant – though he makes sure before things get too far that she is aware and consenting to anything that might happen in this surprisingly unexpected one night stand. Yet in the morning, he isn't ready to let her go, even knowing she's trying to steal from him. He wants to find out more about this intriguing and challenging woman. Will Thea stick around to find out whether Damian is worth the risk to her career, and her heart?
If you're familiar with Jackie Ashenden's books, particularly in the DARE line, then you'll know to expect some intense sexual tension, some smoking hot scenes and characters who are willing to skirt the lines of propriety to get what they want and all of that is present here. Thea has led a pretty lonely life, left on a doorstep as an infant and raised in an orphanage before being taken under the wing of her mentor and learning thieving skills that have saved her life more than once. But always being invisible has taken its toll so when Damian offers her his full attention, even knowing that she's there to steal something from him yet not threatening her or calling the police, she can't resist taking a bite of that juicy tempting apple. What does surprise her is that the next day, he wants her to stick around, and he's willing to hold off his two best friends to do so.
The story takes place over a short time and is an insta-lust, insta-love story, with a sweet happy ending and epilogue. I appreciated that Damian respected Thea's survival skills and seeks to help her in her Robin Hood-esque career by providing the funds to make it more legitimate. The setup is made for two more stories with popular tropes (best friend's sibling and friends to lovers) for Damian's wealthy partners in the Billion $ Bastards series and you can be sure I'll be adding them to my to-read list!
Book Info:
Publication: Jan 1, 2020 | Harlequin Dare | Billion $ Bastards #1
Damian Blackwood is hot as hell! And no one can resist this devil's allure…
I didn't make billions letting others rob me blind. So when I catch Thea Smith stealing a priceless necklace, I can't release her. Not before the mystery woman spends a few nights in my bed! But what started as a sexy distraction is becoming a dangerous liaison. And if I'm not careful, this fiery little thief may steal my most guarded possession – my heart.