In Walk Me Home by Liza Kendall, Charlie Nash has returned to Silverlake for her cousin's wedding.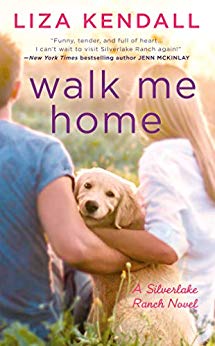 Her family had left the town after a tragic fire that took her grandmother's life, and the blame fell on her first and only love, Jake Braddock.
Jake has never forgotten Charlie and the way her family left, leaving him behind. After losing his own parents, he had lived with Charlie's and considered them his own, until they blamed him for the fire. Now a firefighter, he's dragged into being in the wedding party after the best man has to drop out, and his sister, the wedding planner, begs him to step in.
Charlie wants to mend fences, but Jake is hesitant. Not only did he lose Charlie and her family, a rift occurred between him and his sister after she stood by Charlie, knowing that she had needed a friend. Charlie's grandfather is also still bitter about the fire that took his wife's life, and he's determined to make the firefighters pay by convincing the town to change the fire department from being payed to being voluntary. When he ends up in the hospital and asks Charlie to state his position in front of the town council, will Charlie and Jake be able to survive the outcome?
There is plenty of heartbreak in this book. Teenaged Jake lost his parents, his relationship with his brothers and sister gets fractured, and he loses the only other family he had after the fire. I felt for Jake, but I also felt for his siblings. His oldest brother, Declan, did the best he could to raise his younger siblings, but they all didn't appreciate his attempts and tried to find their own versions of family elsewhere, leaving Declan pretty much alone.
Charlie also has her own heartbreak, losing her grandmother in the fire and Jake in the aftermath. She also has her suspicions as to who was really responsible for the fire, and that's painful for her as well.
Despite that, there is plenty of humor in the book as well. There's bridezilla, who is driving everyone in town crazy. I also found the interactions between Jake and Charlie's grandfather to be amusing. Jake is his therapist, and while he tries to be stubborn, Jake always has a come-back for him.
"Get this pyromaniac away from me, Charlie, before I…"
Pyromaniac? That hurt. Jake raised an eyebrow. "Before you what, Kingston? Beat me to death with your plastic drinking straw?"
Liza Kendall is actually two authors writing together, and I have to stay the story flowed seamlessly. Readers won't be able to tell that it was written by two people.
This is the first book in the Silverlake Ranch series, and I'm looking forward to reading more about the Braddock siblings. I'm also looking forward to reading more about the other residents of Silverlake. This book does a good job introducing everyone without it feeling overwhelming.
Walk Me Home is a story about heartbreak and healing, as well as second chances. With relatable characters and a well-written story line, fans of second chance and small-town romances are in for a treat with this book.
Book Info:

Publication: January 7, 2020 | Berkley Books | Silverlake Ranch #1
Firefighter Jake Braddock is used to fixing things, and he's never met a problem he couldn't solve–except for his sweet ex-girlfriend Charlotte Nash.
Charlie Nash has been a big-city girl ever since her family made a clean break from their small town, after the tragedy that drove a wedge between Jake and her wealthy parents. She's never gotten over abandoning Jake–and he hasn't, either.
Then Charlie returns to Silverlake to stand as a bridesmaid opposite Jake in her cousin's wedding. The event sparks awkwardness, laughter, and heartbreak as they dance to the tune of the craziest bride in the west…and repair broken family bonds.
Can their long-lost love find a second chance?