In Disarm by June Gray, Elsie has had a crush on Henry, her brother's best friend, since she first set eyes on him. She's long given up any hope of having any kind of romantic relationship with him though – he treats her more like a sister than a potential girlfriend.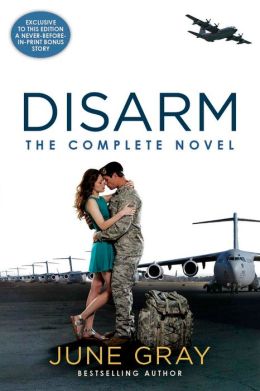 After her brother died in Afghanistan, Elsie took over his room and became Henry's room mate. They spend a lot of time together as friends and have their routines. Lately Henry has been a bit withdrawn though, and to help get him out of his rut, Elsie convinces Henry a night out with friends is just what they need. Soon though, one dance is all it takes to change everything. Suddenly Henry is ready for more – much, much more, but Elsie is confused and not sure how she feels anymore. She soon clears that up for herself though, and Henry and Elsie are in for one hot ride.
Alas, now that they've finally given into what they feel for each other, their time together is short because Henry is being deployed to Afghanistan for 6 months. Love is strong though, and Elsie waits for Henry and worries for Henry. When Henry finally comes home, he is a changed man. Definitely not the Henry Elsie saw off to Afghanistan 6 months ago.
Even Henry doesn't know who he is anymore. He has a lot of inner turmoil, secrets, anger and fears. He had some family issues before he left, issues from his growing up years…now he also has issues from his deployment that are haunting him. He's no longer sure what's right, or even if he and Elsie are right for each other. Elsie is doing her best to support Henry, and as much as it hurts her, she gives him the space he needs and tries to move on with her life, moving forward without him.
Elsie and Henry are in for an emotionally turbulent time with a lot of ups and downs as they face their relationship, and where it's going, if anywhere. Their path to the future whether together or apart will be a rocky one with many bumps along the way. Will Elsie and Henry find the connection they once had? Or is it time to say good bye and move in different directions?
Disarm is a clearly written, easy to read story of love, fear, and personal growth. Elsie and Henry are both people that are easy to relate to, they could be your best friend, your neighbor or someone you pass on the street. The normal-ness of them and their journey gives Disarm a sense of realism. There are secrets and confessions, and going from friends to lovers is not as easy as one would think for Henry and Elsie.
It was easy to feel for and relate to Elsie, Elsie tries to be patient and understanding…she is a strong heroine with many emotions. June draws you in farther with Henry…with vivid descriptions and examples it is easy to see how war changes everything and everyone involved. It is not always a happy time when returning from war, and I think June portrays this excellently. I really like how part of Disarm was from Henry's point of view, it helped with understanding him.
Disarm was initially published as a serial, but I read the whole book as one which I think made for a better flow of the story. It is labelled on Goodreads as an erotic serial, but I think more contemporary military romance than erotic. The chemistry and sex between Elsie and Henry is hot, but it is more of a side to the whole story.
June gives us a few surprises and concludes Disarm well. If you enjoy hot military romance with a lot of emotion that will pull at your heart you will enjoy Disarm.
Book Info:

Published February 4th 2014 by Berkley Trade
June Gray's bestselling erotic serial is now available in print for the first time—as one complete novel.
When the secrets of the past begin to surface, the truth can be disarming…
Twenty-six-year-old Elsie Sherman has had a crush on her brother's best friend, Henry Logan, since she was twelve years old. Unfortunately, Henry—now an Air Force officer—has only ever treated her like a younger sister, stepping into her brother's shoes after he was killed in action.
That is, until the night when one dance ignites a sensual fire between the two, leaving Elsie aroused and confused. Is she allowed to lust after her surrogate big brother, who also happens to be her roommate? As the passion between them crosses the line into a territory that teases with the forbidden, Elsie decides to give herself to the man she has always desired. But Elsie is not prepared for where the relationship will take her.
Henry has been harboring two secrets. One can bring them closer together. The other will tear them apart. Now, with each startling new revelation, Elsie realizes that only she can decide if the past can ever be forgiven—and if a future with Henry is worth fighting for.