Don't Go Stealing My Heart by Kelly Siskind: In this beautifully written novel we follow the life of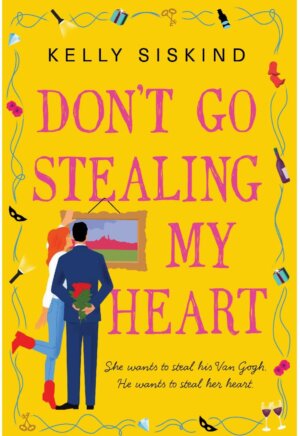 modern day female Robin Hood, Clementine. After seeing first hand the ugliness of the foster care system, Clementine finds herself living as a Nobel thief. An oxymoron of ever one. Clementine works with the help of her pseudo father Lucian, who also happens to be her handler, to steal from the rich and redistribute the wealth to the underprivileged orphans around the world.
"I wanted to impact people like that. I was so enthralled by the end results I didn't care about the stealing."
What was supposed to be just another heist in a small town ended up turning Clementine's entire world upside down. While on her way to the town of Whichway, Clementine unknowingly runs into her new mark, Jack, when his car breaks down on the side if the road. With worrying about his father's ill health, saving the family company and his upcoming Elvis tribute show to worry about, the last thing Jack needed was for his grandfather's vintage Jag to break down. However the gorgeous blonde with a wicked knowledge about cars comes to his rescue sure brightens up his bleak day.
"All Clementine could think was, Girlfriend. Of all the roles she'd played, all the names she'd assumed, she'd never been one of those."
For the first time in her life Clementine feels a real connection to a man, she unconsciously introduces herself using her actual name. Things get complicated for our cat burglar once she realizes that Jack the cute guy from the side of the road is actually her mark, Maxwell Jack David. Now with him knowing her actual name and her feelings from Jack growing Clementine really finds herself in a dilemma.
""I'm arguing with a sexy cat burglar." He hummed a tune and pressed his lips to Clementine's ear. "Don't go stealing my heart," he sang."
I loved this book! I can not tell you enough what an enjoyable read this was, so much so that I took longer to read it because I did not want it to end. From the characters to the brilliant story line Siskind has done a fantastic job with 'Don't Go Stealing My Heart'. Clementine is possibly one if my favorite characters to date. I mean she is a female cat burglar that steals from the rich to support the poor, all while dealing with finding her place in the world. As for Jack, he was just a heart melter with his passion for rehabbing injured animals and his love for the King of Rock, there is no way you can not love Jack.
"His current road sign would read: Beware of sexy idiot, life-changing words like love ahead."
There were so many parts that I loved about this novel, that I just want to gush on about it, I will try to restrain myself I promise. Though one thing I can not help but mention is how cute the names of things are in the town of Whichway and adding to the charm are the Wherever park and Whatnot diner, with such unique and quirky names Siskind brought a sense of wonder to this novel.
I highly recommend this novel to all romance/suspense readers it was such a treat, I loved every second!
Book Info:

Publication: April 22nd 2020 | CD Books |
Treat yourself to the book Jen DeLuca says "sparkles" and "sizzles."
She wants to steal his Van Gogh. He wants to steal her heart.
Some people would call Clementine Abernathy a criminal. She considers herself a modern day Robin Hood, who steals from the rich and gives to the poor. Not exactly on the up-and-up, but she knows what it's like to lose everything. Her latest heist involves swiping a priceless Van Gogh from its owner, who's supposed to be an egotistical trust-fund brat.
Turns out Jack David is a sexy, kind-hearted man…and Clementine is in trouble. Falling for her mark would make her the World's Dumbest Conwoman, but Jack is charmingly persistent, always singing sweet songs in her ear.
And that earth-shattering kiss? She never stood a chance.
Now she's imagining a fresh start with this dashing man, but that means telling Jack about her past. And other nefarious sorts are after the same painting. Too soon, Clementine learns what it means to risk it all for love.