Date of a Lifetime by Lynne Marshall is the second book in The Taylor Triplets series but was great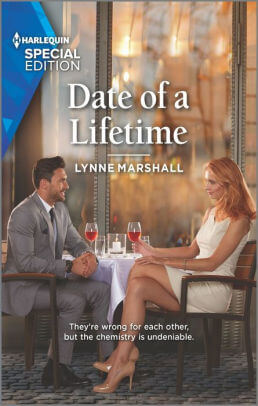 as a stand-alone. The book was a fast read, well written, flowed smoothly, and easy to read. Even though the book was of medium length the characters were fully developed and so easy to connect with.
Eva DeLongpre knew she was adopted but didn't realize she had a twin sister since her adoptive mother wouldn't share the details of the adoption. They happened to find each other after thirty-one years of feeling like they were missing something. Eva started a non-profit charity called Dreams Come True after she adopted her son, Noah, and relocated to Santa Barbara to be closer to Lacy, her twin sister. She was intrigued when she got a request from, Savannah, a senior citizen that had recently been diagnosed with dementia who wanted a dream date with the handsome Joe Aguirre, the mayor of Little River Valley. The instant attraction between Eva and Joe was undeniable, but she thought it would only be one night. Ava was surprised when she saw Joe again and learned he was her sister's neighbor. Can she overcome her past and trust Joe?
Joe Aguirre was in the middle of his reelection campaign for mayor. His opponent was catching up to him in the polls by fighting dirty. His campaign manager convinced him that dinner with Savannah was a perfect PR opportunity for him. His campaign and priorities were based on the senior citizens and their needs, so it seemed perfect. He was interested in Eva but since he was busy with his campaign and law office, he respected Eva's decision for them to limit themselves to that one night. He was surprised when he saw her again with a baby, but realized he wanted to start over and get to know her. Unfortunately, his opponent was not above using stalkers and her Facebook page to make Joe look bad. Things become complicated towards the end of the campaign and Joe must decide if he can overcome his fears of the past.
This was a sweet romance and seeing Eva and Lacy's growing bond of sisterhood was charming. The next book in the series is hinted at by Eva thinking she still feels like she's missing something. Eva and Lacy agree to continue in their search to find their real mother with the help of Joe. It should be interesting when they finally find her.
Book Info:

Publication: April 1st 2020 | Harlequin Special Edition | The Taylor Triplets
They're wrong for each other, but the chemistry is undeniable.
It's not personal
It's business. Sort of…
But it's just one date—a wish fulfillment—for philanthropist and single mom Eva DeLongpre's charity and a PR opportunity for Mayor Joe Aguirre's reelection. Giving in to their mutual attraction was just a spontaneous, delicious one-off. But as the election turns ugly, Joe is forced to declare his intentions for Eva. When the votes are counted, she's hoping love wins in a landslide.