In Double Dealing by Linda Cajio, Jed Waters, vice president of Atlantic Developers, is committing something that he knows is not proper for someone in his station. He is breaking and entering into Barkeley estate, although technically speaking jumping the fence is not breaking anything but he needs to speak to Merry to continue with the sale.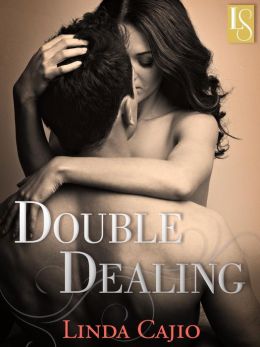 Rachel Barkeley has always loved her uncle's estate. It's not only a beautiful old place with lots in need of repair, it's also part of her family's history. The place was built by a Barkeley and then sold by a Barkeley only to be bough again by a Barkeley. Now that her uncle Merry has gifted her the estate she will do everything possible to make sure that this time it remains in the family.
When her dogs start barking and she follows to find an intruder into the hedge maze, she is surprised to find Jed being the prey, and his reasons for being there are not something she is happy about. Now she must find a way to keep Atlantic Developers from taking the Barkeley estate away from her, and also keep as far from Jed as possible. For she always believed him to be a friend, but now all grown up he is making her feel things that she cannot allow.
Jed's determination now has a new target and it's called Rachel or Rae as he calls her. Rae has grown into a beautiful woman and he will do everything he can to get close to her and find out if something more meaningful can come from the friendship they once had. He begins by attending a ball he knows she will be at, what he doesn't count on is that after a couple of kisses he has confused Rae so much that when leaving she decides to kidnap him.
Rae believes that kidnapping and keeping Jed in the estate will make him realize how wonderful it is and fall in love with it as she did but her plans backfire when being in such close quarters with him becomes a threat to her personally.
Rae and Jed will have many challenges in order for something meaningful to happen between them. But if they want true love to grow they will have to stop seeing everything as being part of the lies for the business and see the true feelings behind everything that has happened between them.
If you want a very fun and entertaining read, don't miss Double Dealing by Linda Cajio. And be warned, Rae's butler will crack you up when you least expect it.
Book Info
Publisher: Loveswept (June 12, 2013)
Even as he's sneaking onto the Barkeley estate, Jed Waters knows better. This is no way for the vice president of Atlantic Developers to behave. He may remember the secret path through the hedge maze . . . he may be able to outrun the dogs nipping at his heels . . . but he never counted on being greeted by Rachel Barkeley herself. Once they were childhood friends. Now Rachel is the exotic stunner in a Shaker sweater—and the owner of the property that Jed's company is so desperate to turn into condos.
Seeing Jed after all these years fills Rachel with a kind of delicious fear. The gardener's son is all grown up, looking like he stepped out of a teenage fantasy. It's not Rachel's fault her eccentric uncle reneged on his deal with Jed, gifted her with the estate, and retired to a monastery in Nepal. If only Jed spent some quality time at the Barkeley house, he would fall in love with it and see Rachel's side of the story . . . which is why she kidnaps him and stashes him in the trophy room. But her gorgeous prisoner has captured something more valuable than any mansion: Rachel's heart.