Drunk on Love By Jasmine Guillory: When Margot is dared by her friend to talk to the guy sitting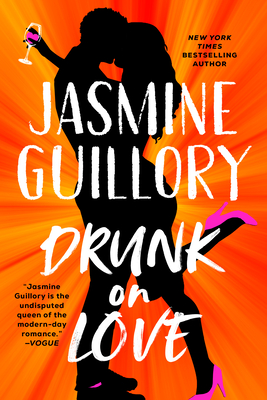 at the bar next to her, she initially pushes back. However, she is drawn to him in a way that she can't explain and proceeds to spend hours talking to him about everything. When they finally leave the bar, he asks is he can kiss her before they head back to his place. After spending the night together, he takes her home in the morning and she expects to just forget all about him… until he walks into the family winery as her new employee. Dealing with the feeling that she doesn't deserve the winery in her brother's eyes and not wanting to let anyone down, she decides to hide their previous encounter and bury it.
Luke Williams is shocked to find that the beautiful woman that he spent the night with is none other than his new boss, Margot Noble. After fleeing from his Silicon Valley tech job due to discrimination and overall workplace issues, he went back home to help his best friend move and ended up deciding to stay awhile to figure out his next steps. He took the job at the winery because he wanted to fill his time with something instead of focusing on feeling like a failure. What was supposed to be an easy way to spend his time got a lot more complicated when he laid eyes on Margot Noble again. He can't bring himself to push aside the emotions brewing.
While the two try to push aside their feelings, they keep finding themselves together. Their time together is spent getting to know each other on a deeper level culminating in a bone-shattering kiss in Margot's office. When Luke's mom is injured, he quits his job at Noble to help out at her inn. Now that they are no longer coworkers, Luke and Margot can finally give into all of the pressure that built between the two of them. As the two navigate their new relationship, they keep it pretty secret and it causes cracks to form. Can they finally be open about everything and let each other in fully?
I have to lead with the fact that I love everything about Jasmine Guillory's writing. I felt super connected to the characters in all of her other books, and she continues that trend with Margot and Luke. Margot deals with a lot internally that we only know as the reader. She deals with a lot of hidden shame at the thought that her brother thought she was undeserving of the winery. Through this thought process, she wants to keep her relationship with Luke a secret since he was technically an employee. As she grapples with her feelings for Luke, she can't help but feel like she would be looked at differently due to the relationship. Until she works more closely on her relationship with her brother, she can't fully give herself over to her relationship with Luke.
Luke has his own closet of fears. He feels like he is letting his mother down by leaving his tech job. In addition, he doesn't want to burst her bubble when she comes to the assumption that Luke is dating his best friend. As he grows real feelings towards Margot, he still shuts her out of some parts of his life to ensure that he doesn't let down his mom. Because of this, he ends up leaving her in the dark for some of the biggest potential changes in his life and she is blindsided. He has to decide what his next steps are in order to make himself happy.
I may have mentioned Luke and Margot already, but the entire cast of characters is enthralling. I truly hope that the next books follow Luke and Margot's best friends finding love, because Sydney and Avery were both side characters that you want to see more of. In addition, the entire story taught the reader about what true happiness and how to focus on your own. I loved every second of the book and can't wait for Jasmine's next one to come out already.
Book Info:

Publication: September 20, 2022 | Berkley Books |
An intoxicating and sparkling new romance by New York Times bestselling author Jasmine Guillory.
Margot Noble needs some relief from the stress of running the family winery with her brother. Enter Luke: sexy, charming, and best of all in the too-small world of Napa, a stranger. The chemistry between them is undeniable, and Margot is delighted that she lucked into the perfect one-night stand she'll never have to see again. That is, until the winery's newest hire, Luke, walks in the next morning. Margot is determined to keep things purely professional, but when their every interaction reminds her of the attraction still bubbling between them, it proves to be much more challenging than she expects.
Luke Williams had it all, but when he quits his high-salary tech job in Silicon Valley in a blaze of burnout and moves back to Napa to help a friend, he realizes he doesn't want to tell the world–or his mom–why he's now working at a winery. His mom loves bragging about her successful son–how can he admit that the job she's so proud of broke him? Luke has no idea what is next for him, but one thing is certain: he wants more from the incredibly smart and sexy woman he hooked up with–even after he learns she's his new boss. But even if they can find a way to be together that wouldn't be an ethical nightmare, would such a successful woman really want a tech-world dropout?
Set against a lush backdrop of Napa Valley wine country, nothing goes to your head as fast as a taste of love–even if it means changing all your plans.