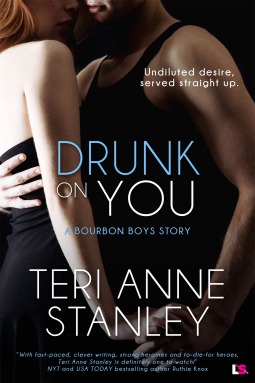 Drunk on You by Teri Anne Stanley is an enjoyable read filled with emotion. From the very beginning, I felt the emotion pouring off the pages based on what Allie felt. Allie has loved Greg since she was five, but he never had a clue. Without knowing it, he broke her heart. Eight years later Greg is back from serving in the military and his only plan is to come home for a short amount of time, before moving out West to become a smoke jumper. When Allie and Greg meet again, he doesn't recognize her and tries to pick her up. When he finally does realize its Allie, you could say he's in shock. Allie is not the same girl he remembers and Greg is someone she could never forget.
I really enjoyed Allie's character. She's very intelligent and has a good head on her shoulders. She's tenacious. She has a business plan that will take the family's business into a new direction, but when the family dismisses her idea, she goes behind their back to make her dream a reality. I loved how she didn't just give in and quit, because they didn't believe in her idea.
Greg was her brother's best friend. He's been her hero since she was a kid. He's always been there for her, so naturally she adored him. Only, she was off limits. Greg was honorable and you could tell he really like Allie. He supports Allie's idea for the family business and wants to see her succeed. The only thing that bugged me, was the endearments he used. He called every female who wasn't related to him babe. I could see how Allie would get confused and not really understand his intentions or feelings.
Overall this book was a great read. One of my favorite romance tropes deals with the best friend's sister, so I was rooting for Allie and Greg to get together from the start. Allie and Greg have a few issues they must overcome before they get their happily ever after, but the journey is well worth it.
Book Info:

July 21, 2015 | Entangled Publishing |
Undiluted desire, served straight up.
Justin Morgan would happily drown the pain of his injured leg—and the guilt he brought back from Afghanistan—in bourbon. Except, there won't be any booze if he doesn't rescue his family's century-old distillery from financial ruin. The problem? Allie McGrath—youngest daughter of the distillery's co-owners, and the one woman he can't have.
Allie has been in love with Justin since…well, she's always been in love with him. Now he's home, broken up over the death of her brother, and he needs help. She can fix the distillery—she's sure of it—but no one's taking her or her sweet new idea seriously. Convincing Justin is her only hope.
Allie is more tempting than Justin expected, threatening a promise he swore he'd never break. If he can't keep their attraction under control, there's a solid chance they'll send the whole enterprise crumbling to the ground…if he doesn't crash and burn first.