Duty At What Cost? by Michelle Conder: Ava had to attend the wedding of her ex-fiancee. It wasn't a hardship – she and Gilles had been friends all their lives and they'd never really had a relationship. It was just assumed they'd marry someday, but he found someone to love – and that meant Ava had to pretend she was putting on a brave face, even if she was secretly thrilled for her old friend. If she had to be completely truthful, she was also a little jealous that he'd found the thing she never had. True love.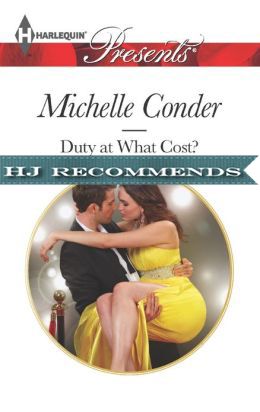 Wolfe and Gilles were also old friends, but he and Princess Ava de Veers had never met. He's tasked to head up security at his pal's wedding, so when he gets a call about the woman scaling the wall to get onto the property he has to investigate. Paparazzi have been circling, and it was just a matter of time before they tried something desperate. Turns out that Humpty-Dumpty-ess was who she claimed to be. But apparently, being a princess didn't translate into having a meek and subservient personality.
Wolfe was heavy-handed and infuriating, and he thought she was too flippant and sassy for her own good. So when Gilles asks him innocently to keep an eye on her neither of them want to get near each other. But when the groom learns about their encounter at the edges of his property, he figures they'll work it out on their own.
Of course, when the magnets (Ava and Wolfe) are flipped, they can't seem to stay apart – and when a tragic event points back to danger headed Ava's way, Wolfe is assigned to be her bodyguard by the King himself. At least he can take solace in the fact that he doesn't sleep with his clients. What he doesn't take into account is that Ava knows her father is actually his client, and she can't seem to keep any distance between them either.
The steam factor in this story is quite high, and I loved the main characters. Their banter was off the charts, and I could almost feel the sandpaper-like sparks flying whenever they fought. Has everything a HQ Presents should have – and more. Highly recommended!
Book Info:

Published July 23rd 2013 by Harlequin
When the Wolfe's at the door…
To protect Princess Ava de Veers, James Wolfe must keep his mind on the job. Having shared one passionate night, Wolfe knows exactly how willful, independent—and sexy—she is. But he will separate his feelings for Ava from the task at hand.
Wolfe is the most daring man Ava has ever met and he drives her crazy! Yet as the threat to her life escalates, he's the only man she can trust and the only place she feels safe is in his arms. But, as royalty, Ava knows that duty always comes at a cost….