In The Counterfeit Cowgirl by Kathryn Brocato, after getting tired of the life of traveling as a sales person, Felicity Clayton has decided to open her own fashion boutique Cosmic Cowgirl. But she knows that in order to sell she has to culvivate the perfect image and she must always look perfect so people will want to buy her clothes, what better way to sell her clothes then she wearing it herself.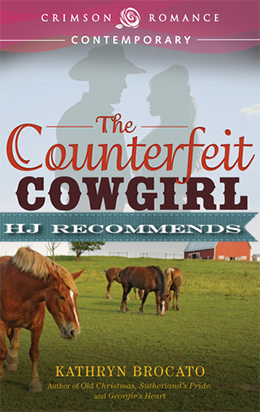 Now Kathryn has taken a two-week vacation to Foxe to take care about her late grandmother's affairs and put the house for sale. Only as soon as she walks into town and steps out of her truck she is confronted and very obviously shown dislike by Aaron Whitaker.
Aaron is the owner of the local Chevrolet dealership and raises cows and horses on his land and while he can be very likeable and friendly, he can't stand Kathryn after all the stories that her grandmother told him about how she stole her money, didn't care about her and would only come back to get her hands on the rest of her money and property. He has enough with looking after his sister and his nephews, so why can't he just stay away from Kathryn as long as she is in town and hope that she can leave as soon as possible.
There are lots of misconceptions and lies that will be brought to light soon enough, and Aaron will have to face them soon enough. Especially after he challenges Kathryn without knowing how her pride will not allow her to admit her defeat and put her in danger. But once his misconceptions are brought to light he will also have to face the reason why he so easily overlooked what was so obvious if he would only had paid attention.
Honestly this is one very fun read. I could not put it down and had so much fun with Kathryn, Aaron and his nephews since they have Kathryn wrapped around their little fingers. Which in turn gets Kathryn into more trouble just because she doesn't want to disappoint them. And her ways to ease the boys' fears of ghost will make you laugh and entertain you till the very end. These are two very headstrong main characters and when put together they challenge each other each and every time, which will make even the marriage proposal fun to read.
If you want a fun, entertaining and fast read that will keep you hooked till the very end, don't miss The Counterfeit Cowgirl by Kathryn Brocato.
Book Info:

September 2nd 2013 by Crimson Romance
Felicity Clayton, tired of life on the road as a top saleswoman, trades in her career to become the owner of The Cosmic Cowgirl boutique in Nashville. Thus she works hard to carefully cultivate her fashion-house cowgirl image. So when she takes a two-week vacation to Foxe, Texas, to prepare her recently deceased grandmother's house for sale, she's astonished to find herself disliked almost before she steps out of her truck.
Aaron Whitaker runs the local Chevrolet dealership and raises cows and horses. He has no use for a flashy, brown-eyed fake cowgirl who has ignored her grandmother for years, especially one driving a Dodge pickup truck. And with his sister and her two young sons staying with him, he doesn't have time to get involved with the menace next door—so why is he beginning to feel an unwanted attraction to her?
Can these opposites overcome their differences enough to experience the love of a lifetime?