Dying to Remember by Sara K. Parker is a skillfully woven tale and definitely lives up to its romantic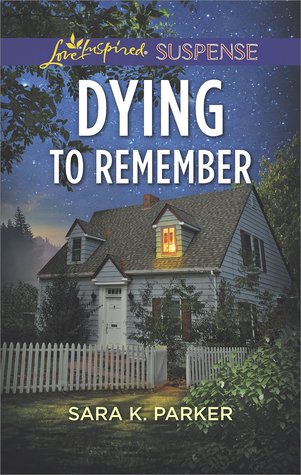 suspense genre. I really enjoyed Sara Parker's storytelling and will look for other books by her!
In Dying to Remember, Ella has sought out her former boyfriend Roman, to help her find out who is responsible for a gunshot wound she is recovering from , as well as who harmed her mother and killed their family friend Marilyn. A very sinister and clever criminal is trying to make it look like Ella aimed to kill herself, and that she is paranoid about her mother and their friend. Roman, who is now a private investigator as well as a specialist in security, immediately launches into action to protect Ella, and to learn who is behind the plot to silence her.
Throughout, he helps her to also get to the bottom of what is causing the funds in the shelter her mother runs to be misused and diverted. Dying to Remember is a story that will really have readers at the edge of their seats!

Book Info:

Publication: May 8, 2018 | Love Inspired Suspense |
After a gunshot wound to the head, Ella Camden turns to the only man she knows will believe she's being targeted, ex-love and security expert Roman DeHart. Trouble is, amnesia keeps her from remembering why someone might be after her. Roman let her go once. This time he'll do whatever it takes to make sure she stays alive–and his–forever.