Eat, Play, Lust by Tawna Fenske: Cami Pressman is a successful yoga instructor with her own studio located on the river's edge in Bend, Oregon. In addition to all kinds of group classes, she provides private paddleboard lessons to those students who want a little more challenge from their yoga workout. Cami is a junk food addict and occasionally eats dozens of tater tots at a time to satisfy her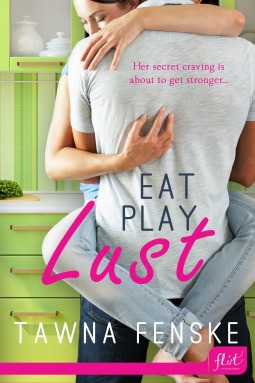 craving. Due to being a little overweight when she was a freshman in college, she is constantly counting calories and fat grams in order to maintain the healthy weight she is now. Her mother is a health food nut and her constant badgering only contributes to Cami's foodie dysfunction.
Successful Chef, Paul Hammond, moved to Bend about six months ago. His brother the doctor is constantly on his case about being healthy by eating right and exercising regularly. As a chef, it is sometimes difficult for Paul to refrain from eating the tasty morsels he creates. Paul is all muscle with the exception of a slightly chunky belly, which he is toning by attending Cami's classes. Paul finds Cami very attractive and decided to attempt her paddleboard class in order to get to know her better. Cami is attracted to Paul as well and they hit it off during and after his private lesson.
Paul has a habit of talking more than necessary, which is quite comical and endearing. He is also a food aphrodisiac expert, so seducing Cami's palate is the perfect foreplay to their mind-blowing sexual encounter. Eating, playing and lusting together has its benefits, especially when the couple is perfect for each other.
If you want to read a cute, fun and sexy novella, look no further than Eat, Play, Lust by Tawna Fenske. This is the first book I have read from this author and I plan on reading much more in the very near future!
Book Info

Publisher: Entangled: Flirt (August 26, 2013)
** Author is donating a portion of the proceeds from her book to Alzheimer's Research, Fisher Center Foundation.
Cami Pressman is a yoga instructor with a lifelong secret love of junk food. Not even an irresistible man can replace the mouthwatering wickedness of her favorite foods.
Until, that is, Paul Hammond signs up for her class. He's a gourmet chef looking to score some fitness tips, and a date with Cami. Suddenly Cami's lust for junk food isn't the only thing making her tingle.
When this sinful chef and hot yoga teacher eat, play, and lust together, they just might bring their obsession to a new level.