In Bound by a Baby by Kate Hardy, Emmy Jacobs and Dylan Harper find themselves as the guardians of their orphaned godson Tyler after his parents,Ally and Pete painful deaths.Emmy and Dylan had shared the special bond of friendship with Ally and Pete for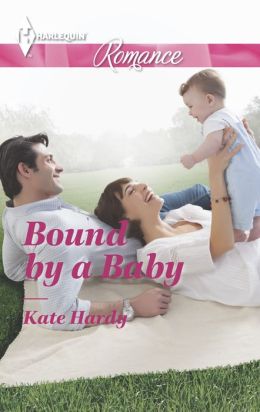 most of their lives and now they both have a commitment to honor as the joint guardians of Tyler.Now they both have to put aside their differences and work together to do the right thing-only its easier said than done.
Emmy has the challenge of getting along with someone who always had a low opinion of her and does not take her seriously and Dylan has never wanted a family after his unhappy childhood.Now he has to fulfill the promise he made to his best friend and in doing so,he discovers a new side to him and Emmy,a woman who was never good enough for him.
Kate Hardy has written an awesome story with an amazing buildup in the storyline.The story was medium paced and wonderfully written with close to real life characters.Emmy and Dylan were someone you could easily come across in your daily life.The title is very apt because most of the story and romance was bound together by the baby,Tyler.The romance had a slow and gradual growth,very much like an actual real life romance.It was more based on conversations and the bonding they did due to the baby than the physical attractions and stolen kisses.
Overall,Bound by a Baby by Kate Hardy is a wonderfully written story and is for everyone who likes to read a slow,conversation based and close to real life romance.
Book Info

Publication Date: September 3, 2013 | Series: Harlequin Romance (Book 4391)
Can a baby bring them together?
Becoming guardian to her orphaned godson is a heartbreaking honor for Emmy Jacobs. The real challenge will be sharing that honor with godfather Dylan Harper! Having got off on the wrong foot with him, Emmy must now somehow get along with the brooding—and gorgeous—Dylan….
Dylan has never wanted a family. His own childhood was bad enough, so how can he ever be a father? But he promised his best friend he'd be there and he's going to be. Caring for baby Tyler with a beautiful but emotional woman will test him to the limit. However, watching Emmy with Tyler shows Dylan a new side to her—and a new side to himself….