Echo of Danger: Marta Perry has done it again, weaving in romance, suspense, and a touch of the Amish genre skillfully into a book I just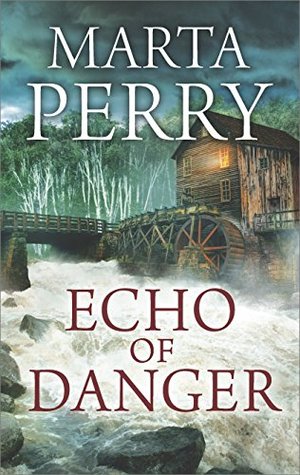 couldn't put down until the very last page. Ms. Perry is simply a very talented and descriptive writer. Echo of Danger introduces readers to the new setting of Echo Falls, in this first of a new series.
In Echo of Danger, Deidre is newly widowed and doing her very best as a single mother to a sweet, adventurous 5 year old boy Kevin. She is blessed to have close friends and ties among her Amish neighbors and cousins (Deidre's father grew up Amish). Deidre is also striving to maintain a positive relationship with her in laws now that she is widowed, so they can play a role in their grandson's life. Many readers will relate, I am sure, to the dynamics of dealing with in laws who are controlling yet who cover this up by claiming it is out of love. Her father in law, a well respected local judge, hires a new attorney in the firm to pick up his late son's caseload, but also to act as a "spy", to find out if Deidre is a fit mother. The judges' goal is to take Kevin away from Deidre.
Jason, the new attorney, is immediately intrigued by Deidre and her son, and feels guilty having to spy for the judge. When Kevin's baby sitter, a friend of Deidre's, is brutally murdered, and Kevin is traumatized, a search for answers begins, with the police chief trying to determine if the killer was after Dixie, or is truly after Deidre. Jason quickly assumes a protector role for Deidre, especially as he starts to sense the judge is not truly honorable in his behavior and actions.
I already look forward to reading the next installment in this series, Echo of Fear, just as I eagerly anticipate all of Ms. Perry's books. And I cannot recommend Echo of Danger highly enough.
Book Info:

Publication: May 1, 2017 | HQN Books | Echo Falls #1
A whisper of a threat looms over widow Deidre Morris. She and her young son have unwittingly become prisoners of her intimidating father-in-law's power. One wrong step could find her son torn from her and in the hands of the influential judge. But when Deidre collides with an intriguing stranger, the prospect of a new friendship gives her renewed hope…until a devastating murder rocks the quiet community of Echo Falls and Deidre learns first impressions can't be trusted.
Attorney Jase Glassman's assignment is straightforward: befriend Deidre, gather incriminating evidence…and allow her dogged father-in-law to take custody of her child. Anything else, including losing himself in her honest charm, will compromise the job he was hired to do. Yet when a murderer ushers danger into the town, Jase's only instinct is to protect Deidre and her son—no matter the sacrifice.