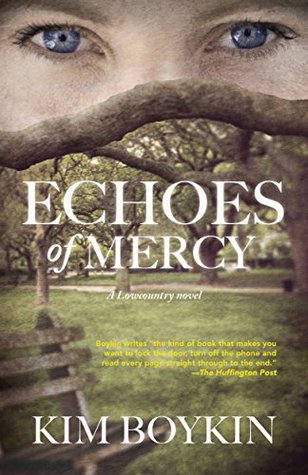 In Echoes of Mercy: A Lowcountry Novel by Kim Boykin, As police chief of her little hometown in South Carolina, Billie Warren has a lot on her plate these days. From her mother's failing health to her daughter's baby daddy drama, she's been holding it together with no one to help take care of her own needs. Not that she doesn't have a man who would be willing to take care of her if she could find the time to let him. Cole has been patiently been pursuing her for some time now, but with her life imploding, Billie's had to push her love life to the back burner for the foreseeable future.
'He was one of the best things that had ever happened to her, and yet she denied herself. Why was that? Why couldn't she just save the world five days a week from three to eleven and then fall into his arms?'
Another complication arises when a woman with a long history in town reappears with details about a murder case from four decades ago. Locally known as Crazy Sadie, she's also the key to one of Billie's biggest regrets. But now that she's in a position to do something with Sadie's information, it may have come years too late. Her implications have the power to affect the townspeople all while pointing the finger at a well-known judge who is above the law. Billie must weigh her options carefully because messing with the wrong people could put her life–as well as that of her loved ones–in mortal danger.
'Forty years of atonement ought to count for something. After all, Billie Warren was just nine years old when she did what she did.'
Compelling. Echoes of Mercy was a compelling, suspenseful novel centering around a small Southern town and the secrets that had been festering there for nearly four decades. And when the truth finally came out? It altered numerous lives in unimaginable ways.
This was a fantastically complex book full of mystery that kept me guessing how everything was interconnected and woven together. And I loved that Kim Boykin chose a heroine who was in her late forties. Billie had prior life experience to draw on in dealing with the Sadie's allegations while she was also handling everything else weighing upon her exhausted shoulders. Billie was the type of character I enjoy reading about. She wasn't perfect. She made mistakes, but she did the best by her loved ones that she possibly could. And I thought showing how the stress got to her at points in the story was very appropriate given the intense strain she was under.
While this wasn't a 'happy, fluffy' story as it deals with some horrific deeds that were done to a few of the townsfolk, there were still some moments filled with joy, along with the warm sense of family and friendship. The storyline was mainly set in present day as Sadie's story unfolded, but there were flashback scenes interspersed throughout that completed the picture of what truly happened years ago. It was a tragic tale that left its mark on Billie and Sadie, affecting them even decades later, especially in their relationships with others. While Billie tended to hold everyone at arm's length, afraid to hurt someone or to be hurt herself, it seemed like Sadie tried to latch on to loved ones.
There was even a bit of a romantic thread running through the story between Billie and local sculptor Cole. We didn't really get to know him in-depth, but I thought we learned enough about him to know he had her best interest at heart and that he was a caring guy who would protect her no matter what. We did get some resolution in that regard as well as the issue with Sadie, but this was left at a point where I could see another installment being a possibility. (Hopefully…)
Kim Boykin created a tale that was as heartbreaking as it was redeeming. Filled with political corruption, loss, social stigma, and the power of love, Billie's story will be sure to grab hold of your emotions and not let go.
Book Info:

 Published April 1st 2016 | by River's Edge Media |
How can you make up for something that you did as a kid that was both so stupid and so terrible, forty years later it still follows you like a pack of lost dogs? For Billie Warren, it means piling up more and more responsibilities, doing good for the community as the police chief of her Lowcountry hometown. Trying to be the best mother of a teen mom, and daughter to her mom with Alzheimer's, that she can be.
But Billie's fragile life is thrown into turmoil when the target of her biggest regret, Crazy Sadie, shows up claiming to have witnessed the only murder in the town's history. Sadie Byrd accuses the nearly dead and sainted Judge Norris of savagely beating his own little girl to death forty years ago. Could Miss Sadie be right? As Billie uncovers the terrible truth of stolen babies and bone-chilling corruption, she will have to risk everything when powerful people are prepared to do anything to keep buried.