Edge of Darkness (Dark Saga #27) was a sexy paranormal anthology by three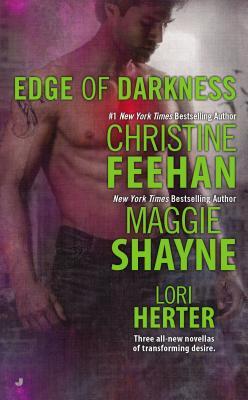 highly talented authors: Christine Feehan, Maggie Shayne, and Lori Herter. The overall theme that really tied the three stories together was that of the main characters finding their lifemate. What a great premise, right? And while each of the short stories had their own tone based on the writer, this collection felt very cohesive and was absolutely rock-solid. Although with writing talent such as we have here, that shouldn't come as a surprise! That being said, we'll take a look at the individual stories presented.

Dark Crime by Christine Feehan:
Dark Crime was the longest of the collection and I thought it was also the hottest overall. Set in the world of Christine Feehan's Carpathians, this followed Blaze McGuire after the murder of her beloved father. In her need for vengeance, she came into contact with Maksim Volkov who was all alpha, and all Carpathian, only to find out that they were lifemates. There were actually quite a few fight scenes included here, some quite graphic and grisly, but there was also a wonderful sense of belonging when Blaze and Maksim found each other. I loved their connection as well as the feeling of family when he helped her best friend Emeline, and when the Carpathians watched over their safety.
'When a Carpathian male had waited for centuries to find the only woman who could save him, he didn't just guard her. He surrounded her with every protection possible. Maksim Volkov stared down at the woman who held the other half of his soul.'

Dead by Twilight by Maggie Shayne
This one took a step back in time to begin Chloe Madison's story. We found out how she became a vampire sixty years ago and how she evolved into a police officer intent on taking down rogue vampires. You would think with Chloe being a cop that this would be a gritty tale, but there was actually a lot of humor and sarcasm used, which I loved. The introduction of state cop Shepherd Daniels–who was not a vampire–turned this into a fun romance with his teasing and flirty ways. Well, when he and Chloe both backed down from stepping on each other's toes during their shared investigation, that is. There were also some impressive fight scenes, plus a trip to a fetish club that was very intense and super sexy. *fans face*
'And I wondered, as I had before, if maybe this was my calling. Maybe this was why I existed in this life of endless night. Maybe everything that had happened that night happened solely to create a vampire killer like me.'
Cimarron Spirit by Lori Herter

Passionate. Cimarron Spirit was a very seductive and passionate short story about professor and archaeologist Annie Carmichael unexpectedly meeting vampire Rafael de la Vega on the site of the historical ruins she was studying. They both were lonely and looking for someone to belong to. Interestingly, this was also a love triangle with Annie already dating rancher Brent Logan. What happened over the course of this story was maybe a little outlandish, but it was extremely romantic. I thought it was easy to get swept away with the whole storyline and Annie and Rafael's strong chemistry. It was the type of story that just makes you want to give a happy sigh when you finish it.
"You challenge me and I feel alive. I have new hope that my cruel destiny might change. Perhaps God is forgiving and has sent you to ease my loneliness."
Book Info:

Publication: Published August 4th 2015 | Jove | Dark Saga #27
Take an all-new excursion in the world of the Carpathians from #1 New York Times bestselling author Christine Feehan—joined here by Maggie Shayne and Lori Herter, two other masters of vampire romance in an original anthology that takes dark fantasy to rapturous new heights.
Dark Crime by Christine Feehan
Blaze knows who killed her father and she has merciless plans for payback. Until a phone call from a seductive stranger pleads with her to wait. Retribution is in his blood, too. Now, he and Blaze will be united in the blood of the guilty. Tonight, vengeance is theirs.
Dead by Twilight by Maggie Shayne
Bloodsuckers may be an accepted minority but one of them is getting away with murder. Until a female vamp teams with a mortal detective to end the killing spree. Now the night belongs to them—and so does every pleasure and danger lurking in the shadows.
Cimarron Spirit by Lori Herter
While excavating an Anasazi ruin, archeologist Annie Carmichael uncovers the resting place of a centuries-old vampire who finds in Annie the liberating mate he has longed for. But how much is Annie expected—or willing—to surrender for the man she now desires?