Elliott Redeemed by Scarlett Cole: While Elliott has been enjoying the life of a famous musician, he's also feeling oddly adrift and at the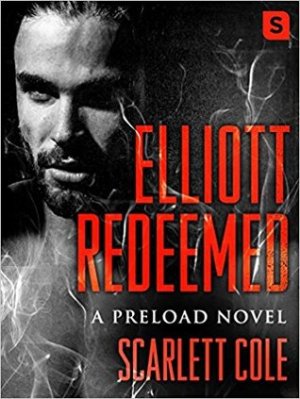 mercy of his returning compulsions. So much has changed as two members of the band have found their own families and moved out of their shared house. Elliott is generous, selfless, charming, sexy, and cocky.
Kendalee is exhausted. Her entire world revolves around getting her son Daniel the care he needs after he burned down their home and getting caught in the flames. Between her son's care, the ongoing divorce, and putting in some shifts as a cashier, she doesn't have the wherewithal to properly take care of her own basic needs.
Elliott enjoys spending some time with their fans, but hospitals freak him out. But he's glad he went since he got to meet Daniel and Kendalee. She may be older than him, but Kendalee soothes him in their short meeting and he wants to get to know her and Daniel better.
"Yeah. Well, I'm not sure how successful I'm going to be at going back to square one."
"Good, because you need to go back to before square one. Before we…"
"Kissed?" he asked as he rested his hands on the side of her conveyor, flexing his arms in such a way that his biceps looked huge.
Kendalee and Elliott have amazing chemistry and he re-awakens a part of her long buried. They grow close pretty quickly, in part due to the special bond between Daniel and Elliott. And Elliott is persistent, charming, and thoughtful in his pursuit of her. He wants and needs to take care of both mom and son.
"I'm not sure I've ever really made the effort to date a woman. But you, Kendalee Walker, are a woman worth dating. And if you didn't have a son in the hospital, I'd make all kinds of other plans. But you do. So, I want to make the very best of whatever time we have. I want to show you how much you mean to me, even after such a crazy short time."
Elliott Redeemed is just the right combination of sexy and heartwarming. Scarlett Cole draws you into the Preload world with conflict, family, heat, and humor. Ms. Cole continues to build great characters and I can't wait for Nikan and Lennon to get their own books. Elliott Redeemed can be read as a standalone in this series. Fans of Erika Kelly and LuAnn McLane will enjoy Elliott Redeemed.

Book Info:

Publication: Published August 29th 2017 | Swerve | Preload #2
A single mom and tortured musician find common ground in Scarlett Cole's Elliott Redeemed, the second standalone romance about the band Preload.
Elliot "Pyro" Dawson burns up the lead guitar like a legend. But the nickname Pyro isn't just a clever play on words. It's much darker. A past he's fought like hell to overcome.
Grocery store cashier Kendalee Walker is at her wits end and homeless. She's watched her fourteen-year-old son, Daniel, go so far off the rails, he can no longer see the tracks.
When the two are brought together, attraction flares, but can Elliott find the family he never had with the sexy woman and her son, or will he fall back on dark habits?