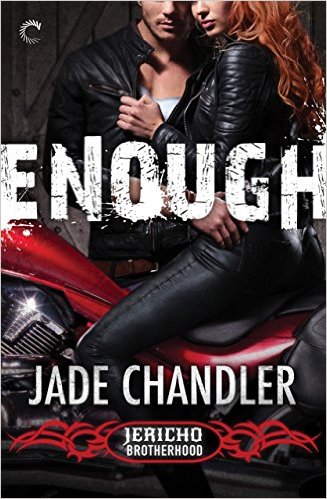 Enough: A Dark, Erotic Motorcycle Club Romance (Jericho Brotherhood #1) by Jade Chandler is everything that a MC book should be and then some. If you enjoy MC books, then you will know that they contain hard, tough, and strong bikers that apologize for nothing and take no prisoners. The story is so much more. This story has heart break and struggles that will make you fall in love with these characters. Yes, it is HOT, but in ways it is also heartbreaking. This is the story of Dare and Lila.
Lila has been running for years. After a life with an abusive father and then entering one abusive relationship after another, she is looking to set down roots and find a home. She never expected it to be with the MC and never in the arms of Dare.
Dare has earned his name, never backing down from a challenge. When he sets his sites on Lila, he knows that he has to have her. 'Red' as he likes to call her is his match. But he will not force her. He will give her time to come to him, though it might kill him, he is willing to give her space.
But Dare is hiding a secret and he knows when Lila finds out that she will push him away because she deserves better that him. When Lila disappears to go and visit her sister and leaves no word, no message and no contact for Dare, he goes off the rails. Let's his irrational fears get the better of him. Lila fears that Dare is trying to control her and is abusing her not with his fists but his actions. These two will need to put fear and mistrust aside before it destroys them both.
What I admired most about this book was the real and true connection between Lila and Dare. They both have been hurt in the past, Lila with fists and words, and Dare with his learning disabilities. Both feel unworthy of love and affection, but they each have what the other needs, an understanding that is beyond their flaws. I love how protective Dare is of Lila, how he will take on his friends and MC brothers to keep her safe, to make her feel at home. Dare is an amazing character that does not force things on Lila, but allows her to make her own choices, does not pressure her, but allows her to have the control that she has been without for so long. He makes her feel safe. Lila loves and accepts Dare despite his disability. While he sees himself a failure, she sees a strong, courageous man that has managed to get though life despite his limitations, and is better for it.
An amazing MC books with HOT heroes, a deep connection and an amazing HEA for these two very worthy characters.

Book Info:

 Published July 11th 2016 | Carina Press | Jericho Brotherhood #1
She wanted nothing to do with me. Well, that's too f*cking bad.
My MC brothers call me Dare for a reason. I never back down from a challenge. And Lila was the sweetest challenge I ever faced.
From the moment she walked into my tattoo shop, she was going to end up in my bed. Tied up, moaning my name and begging for more.
Her past was a nightmare and I couldn't guarantee her a future. But I could promise her a good time.
I didn't know what we would turn into, let alone how hard it'd be to stay away after my selfish ass sent her packing.
Problem is, my girl is hot, so the same men I call brothers tried to claim her.
There's not enough bourbon in the world to help me forget the love we shared. But to get her back, to prove she's more to me then a quick lay, I'll have to tell her the secret I've been hiding from everyone.
Before she's gone forever.